SCRANTON – Ruiwen Su, a senior at Marywood University, has a lot to celebrate this Easter Season.
At the Easter Vigil Mass on Saturday, April 8, 2023, the 25 year old officially became a member of the Catholic Church, receiving the Sacraments of Baptism, Holy Eucharist and Confirmation at the Cathedral of Saint Peter.
The native of Beijing, China, did it with his new fiancé by his side as his sponsor after becoming engaged on the Monday of Holy Week.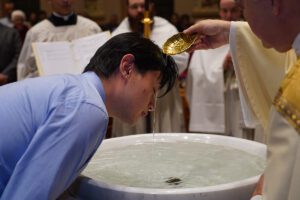 "I'm excited and nervous," Su said about the road ahead.
While studying at Marywood, Su got involved with the music ministry program and began feeling a deeper spiritual calling. He is one of 162 people received into full communion with the Catholic Church at Easter in parishes throughout the Diocese of Scranton.
"I was born and raised in an atheist country but I still always felt like there was something higher," Su explained. "I keep looking for the truth and try to dig into the knowledge."
While Su's fiancé, Naomi Doyle, grew up in a Catholic family, participating in the RCIA classes helped her grow deeper in her relationship with Jesus as well.
"I feel like God really gave me what I needed to help lead him through," Doyle said. "Through this entire process, I've learned a lot about my faith and have re-affirmed what I believe."
During his Easter homily, the Most Reverend Joseph C. Bambera, Bishop of Scranton, stressed Easter is a time to rejoice and be glad.
"The Risen Jesus is present, here and now! Receive the life and hope that He promises," the Bishop told the crowd at Easter Sunday Mass. "Like the women who first encountered the empty tomb on the day of resurrection, we are not to linger in this sacred space, reluctant to confront the suffering of our world. Our mission is to go forth boldly from this Cathedral with hope, to both encounter and proclaim the Risen Lord, in our families and neighborhoods!"
Bishop Bambera admitted that amid devastating earthquakes, school shootings and the War in Ukraine, some people might question exactly where the risen Jesus is to be found.
"The road to the resurrection always makes its way through the Cross," Bishop Bambera noted. "Where do we look to find the risen Jesus? We look to those who suffer, to see the risen Christ and to make His presence known."
To illustrate his point, the bishop focused on a television news report he had recently seen from the devastation left behind in Rolling Fork, Mississippi, after tornadoes virtually wiped the little town off the map just days before. He quoted one of the survivors, a woman named Melinda, during his homily.
"She had been buried for hours under the debris from her home that was destroyed," the bishop stated, adding the woman so faithfully stated, "'We have nothing left, no water, no car, no electricity, no house, no nothing. But by God's grace and mercy, I was pulled out of a tomb. He saved me for a reason so I'll trust in Him.'"