SCRANTON – As the Hawaii island of Maui begins to recover from the devastation caused by the deadliest wildfire in the United States in more than a century, Bishop Bambera has invited parishes in the Diocese of Scranton to take up an emergency special collection to address the immediate needs of the affected communities while also planning for long-term recovery efforts.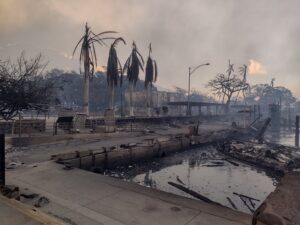 The bishop is allowing each pastor to choose an upcoming weekend that works best for parishioners, but has suggested either the weekend of Sept. 2/3 (Labor Day weekend) or Sept. 9/10.
Funds from the emergency collection will be transmitted to the USCCB's Emergency Disaster Fund and will go directly to help the people of Maui rebuild.
Bishop Bambera shared the words of Honolulu Bishop Larry Silva, who recently said to the Catholic faithful in Hawaii and beyond, "As a community of faith, we are called to come together and provide unwavering support to those who are suffering. It is in times like these that our collective love, faith, and compassion can make a tremendous difference."
The Boston Archdiocese, the Los Angeles Archdiocese and the Diocese of Arlington, Virginia, are among other U.S. dioceses holding special collections at weekend Masses through August and into early September.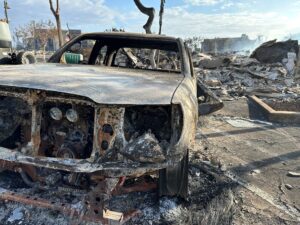 As of Aug. 22, the Honolulu Star Advertiser confirmed the death toll in Maui had reached at least 115 "as authorities continue working to identify the remains of those killed in Lahaina."
The Associated Press has reported that the tally of those still unaccounted for varies "widely." "Hawaii Gov. Josh Green said Sunday (Aug. 20) that more than 1,000 remained unaccounted for. Maui Mayor Richard Bissen said in a pre-recorded video on Instagram that the number was 850. And during President Joe Biden's tour of the devastation (Aug. 21), White House homeland security adviser Liz Sherwood-Randall put it between 500 and 800."
In his remarks in Lahaina, Biden told the people of Maui, "You've shown such absolute, incredible courage, and that's not hyperbole. I want you to know, on behalf of the United States of America and all the nation, the American people stand with you."
"From stories of grief, we've seen so many stories of hope and heroism, of the aloha spirit. Every emergency responder put their lives on the line for — to save others. Everyday heroes, neighbors helping neighbors, Native Hawaiian leaders offering solace and strength," he added.
After his remarks, he spent about two hours meeting face-to-face with attendees, according to news reports. The Bidens had paused their summer vacation at Lake Tahoe in Nevada to visit Maui for about six hours.
Biden was criticized by some Maui residents who stood with signs on the motorcade route he took to tour the devastation telling him to go home and demanding more federal disaster relief.