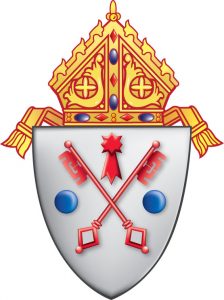 At the request of His Excellency, the Most Reverend J. Carroll McCormick, Sixth Bishop of the See of Scranton, a simplified version of the Diocesan Seal was prepared for the centennial observance by Mr. William F.J. Ryan of New York City, a member of the Academic Internationale d'Heraldique.
Prominently displayed in the center of the shield are two crossed keys. In symbolic fashion, they recall the entrusting of the power of the keys by Our Lord and Savior, Jesus Christ, to St. Peter, Prince of the Apostles. Since the Cathedral of the Diocese of Scranton is dedicated to the memory of the first Pope, it is only fitting that the principal church be chosen to represent each of the 239 residential pastorates of the eleven-county see.
In the aperture above the keys, a comet is rendered. Taken from the Coat of Arms of His Holiness, Pope Leo XIII, the comet denotes the importance of the encyclical "Rerum Novarum" with respect to the rights and duties of the laborer. Then, to the left and right of the keys are a pair of roundels of Pennsylvania.
Superimposed above the symbols of church, state, and people is an episcopal mitre, the headdress of bishops in the Latin Rite. As a successor to the Apostles, the Ordinary of the Diocese is obliged to assume personal responsibility for the salvation of every soul encompassed within the territory of his jurisdiction. Subject to direction by the Holy See, his authority is the binding force among the Children of God in northeastern Pennsylvania.