MEMO
Office for Parish Life
Diocese of Scranton
January 2020
Dear Christian Initiation Coordinator: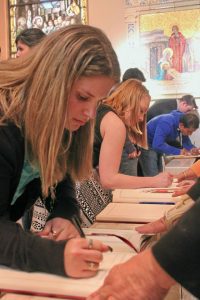 The Rite of Election and the Call to Continuing Conversion will be celebrated by Bishop Bambera on Sunday, March 1, 2020 at 2:30 p.m. at the Cathedral of St. Peter.
All information and forms for participation in the Celebration of the Rite of Election and the Call to Continuing Conversion 2020 can be found below.
The Christian Initiation Coordinator Memo contains important information, along with directions for electronic registration for the Rite of Election and the Call to Continuing Conversion.  The Parish Participation Form (which includes the roster of catechumens and candidates) can be easily submitted electronically.  PLEASE SUBMIT ALL NAMES OF CATECHUMENS AND CANDIDATES NO LATER THAN FEBRUARY 14, 2020.
After submitting the forms, a confirmation will be emailed to you. If you have any questions or concerns, please call 570-207-2213 X 1158 or email David-Baloga@dioceseofscranton.org.
Thank you,
David Baloga, Director for Worship
CONFIRMATION FOR BAPTIZED ROMAN CATHOLIC ADULTS
Since Bishop Bambera has granted the faculty to pastors/sacramental ministers to confer the Sacrament of Confirmation in their own parishes, there is no longer a need to request the faculty to confirm a baptized Catholic adult. For this reason, the Adult Confirmation on Pentecost Sunday at the Cathedral of Saint Peter in Scranton has been discontinued.  Although past practice in the Diocese of Scranton has been to confirm baptized Catholic adults at the Easter Vigil, it would be more suitable to have them receive Confirmation with eighth grade students in your parish either at a Confirmation with Bishop Bambera or on Pentecost by the pastor.