Vision Statement:

The vision of Youth and Young Adult Ministry in the Diocese of Scranton is to empower members of the Young Church to answer the call of Baptism by living a life of intentional discipleship, and by proclaiming the Gospel of Jesus Christ throughout their journey of faith.
Ministry for youth and young adults includes:
Providing resources, training, and consultation for assistance in the implementation of youth and young adult ministry.
Continued support is provided through on-site visits and spiritual formation for Religious Education and Youth Ministry staff.
Development of leadership and peer ministry programs on a diocesan level.
Diocesan retreat opportunities.
Coordinating diocesan participation in conferences and pilgrimages for youth and young adults.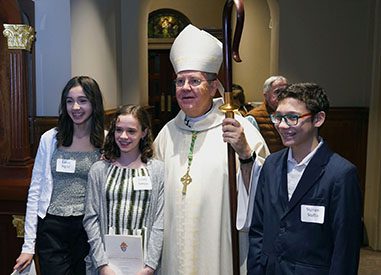 BISHOP'S YOUTH AWARDS 2024
It is with great pleasure that we announce the opening of this nomination process for the 2024 Bishop's Youth Awards. The Bishop's Youth Awards, a time-honored tradition in the Diocese of Scranton since 1996, celebrates current 8th and 12th grade youth who embody the spirit of the early Church who "devoted themselves to the teachings of the apostles and the communal life, to the breaking of the bread and to the prayers" (Acts 2:42, NABRE).
CLICK HERE FOR MORE INFORMATION AND TO REGISTER.