"Father, our son is thinking about becoming a priest. We practice our faith. Honestly, we do not really understand much about the life of a priest. We are concerned he will not be happy. We want to have grandchildren. We feel a little overwhelmed. We are discouraging him and we feel guilty."
The concerns are real. Fear is the enemy and it is not from God.
The more helpful position for parents would be to encourage a thorough discernment process and educate themselves as best they can on what a vocation to the Diocesan Priesthood and the discernment process are all about.
If your son is considering priesthood, talk with your pastor or a member of the Vocation Team about any questions you might have. Remember, their job is not to recruit. It is to help your son discover where God is calling him to live out his faith in the world because that is where he ultimately will find true happiness. A parent's job is to help their son discover God's special plan for his life, not to impose his or her will.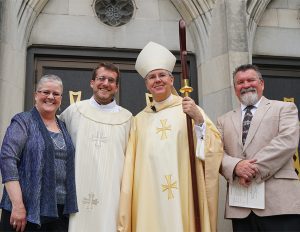 "God only calls a finite number of special men to the priesthood. These young men are not entering seminary wearing blinders. They know their discernment is countercultural by today's society. The church today is in dire need of good priests. Why not your son? God will never abandon them."                                              -James Glenn, father of Father Ryan Glenn