SCRANTON – More than 300 people participated in an annual Good Friday Way of the Cross procession, which took place on April 7 throughout the streets of South Scranton.
Parishioners of Saint John Neumann and Saint Paul of the Cross Parishes, many of whom speak Spanish, organized the event.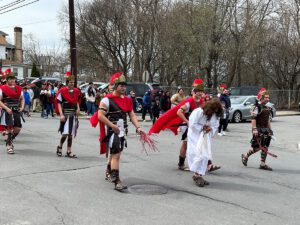 The faithful gathered at Saint Paul of the Cross Parish on Prospect Avenue and began their procession as a way of showing love for Jesus and the sacrifice He made for us.
"This is Christ going through His passion and us reliving it and bringing it to the South Scranton community so members can see it," parishioner Adriano Torres said. "We all worked so hard making this happen."
Edward Rivera of Wilkes-Barre, who participated in the procession for the first time this year, said the event brought forth many emotions, ranging from pain, suffering, betrayal and abuse.
"It means that I can actually go through what Jesus Christ went through and see first-hand the things that He suffered. It makes me realize that without Him we wouldn't be here right now. Faith is something that I carry deep in my heart," Rivera explained.
Dozens of actors spent months preparing for their roles.
"It has been two or three months doing this, every single Sunday after church, coming together to practice for this event today," Rivera added.
One of the goals of the procession was to help evangelize and bring Jesus to people who might not know about the Church.
"This is what we're called to do. We're called to evangelize," Torres said. "Jesus said, 'Go out and preach my word,' and this is what we're doing!"
"I want people who are wondering, 'Can I be part of this community' or 'Is this faith for me,' to see they have a place in our community," Rivera added.
Rev. Alfredo Rosario Paulino, Assistant Pastor of Saint John Neumann and Saint Paul of the Cross Parishes, helped lead the Way of the Cross procession.