SCRANTON – Hundreds of people gathered to mourn the death of the Most Reverend James C. Timlin, eighth Bishop of Scranton, at a Mass of Christian Burial, which was held on Tuesday, April 18, 2023, at the Cathedral of Saint Peter in Scranton.
The Most Reverend Joseph C. Bambera, tenth Bishop of Scranton, served as the principal celebrant. In addition to priests from the Diocese of Scranton and resident religious priests, three other bishops concelebrated the Mass.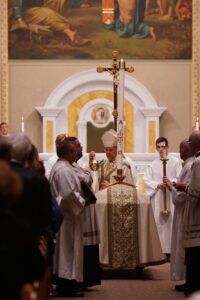 During his introductory remarks at the beginning of the 2 p.m. liturgy, Bishop Bambera acknowledged the sensitive nature of planning the funeral Mass.
"Many of us grieve the loss of a kind and compassionate leader who worked tirelessly for others well into his nineties and some grieve the consequences of imperfect judgments and decisions that led to the suffering of some who were most vulnerable," Bishop Bambera said. "But one thing is absolutely clear from what we do this day, at this Mass of Christian Burial, the reality that we are all desperately in need of a Savior. Saint John Paul II put it best a few years before he passed, 'Apart from the mercy of God, there is no hope for mankind.'"
In releasing the Report of the 40th Statewide Investigating Grand Jury in August 2018, then- Pennsylvania Attorney General Josh Shapiro publicly criticized Bishop Timlin for his handling of sexual abuse cases involving priests of the Diocese of Scranton. That same month, Bishop Timlin was barred from representing the Diocese in the wake of the Grand Jury Report's release.
During the Universal Prayer at the funeral Mass, mourners prayed intentionally for victims of sexual abuse.
"Many people live with the painful memories of sexual abuse by clergy," Deacon Peter G. Smith said. "Give them healing for their pain, freedom from their fear, and hope for their future, and may all members of the Church commit themselves to protect children and the most vulnerable in our society."
Bishop Timlin died on Easter Sunday morning, April 9, 2023, at the age of 95.
REMEMBERING A MENTOR AND FRIEND
"We come together in this great Cathedral of ours to reflect upon his life, to remember the fullness of Bishop Timlin's remarkable 95 year pilgrimage homeward, and lastly, we're here this day to pray for his eternal peace," Monsignor Joseph G. Quinn, V.F., pastor, Our Lady of the Snows Parish, Clarks Summit, said at the beginning of his homily.
For more than 40 years, Msgr. Quinn said that Bishop Timlin had "been a faithful mentor, friend and inspiration in my own life."
Msgr. Quinn extended his sympathies to the extended family of Bishop Timlin, saying the late prelate had a special ability to remember every detail of his loved one's lives.
"I think we have all marveled at his consistent thoughtfulness throughout his life, his ever humble and kind ways. To the very end, he was always handwriting notes, always notes of thanks, most of them forever expressing his gratitude for the thoughtfulness and kindness of others," Msgr. Quinn said. "You might have received a note simply because you remembered his birthday, an anniversary or a special event along the way but it was amazing how many notes he sent out in any day."
Msgr. Quinn explained how he was privileged to witness Bishop Timlin's great depth of faith and his hope to share and live the peace and joy of the Risen Christ.
"He understood well the truthfulness of the words of Scripture today as in the First Reading where it was said, God's dwelling is with the human race and God will wipe away every tear from our eyes. There shall be no more weeping or pain for the old order has passed away," Msgr. Quinn said.
In his 72 years as a priest, Msgr. Quinn said Bishop Timlin "joyfully counted each day" but did not do everything perfectly.
"With his genuine sense of humility he would be the first to tell you that he was far from perfect," Msgr. Quinn explained. "He was always reminding all of us that we're not called to be perfect, we're called to be holy, so that we might be humble enough, human enough, and happy enough to live merciful lives rooted in Christ."
As he concluded his homily, Msgr. Quinn said Bishop Timlin never lost sight of his primary role as a parish priest – "helping people come to know, love and serve God" – by always being available to console the grieving, visit the sick or care for the suffering.
"As we gather today to mourn Bishop Timlin's death, to truly remember the fullness of his life and to pray for his eternal peace, let us remember all that he did throughout his 95 year journey homeward," Msgr. Quinn stated. "All he did to come and know and live out God's will in his life in humble and selfless fashion and let us pray for the same merciful graces we need to do the same in our own."
PARISHIONERS MOURN LOSS
In the five hours leading up to the funeral Mass, the public was invited to pay their respects to the late Bishop Emeritus of Scranton.
"He was a good man," former Scranton mayor Jimmy Connors said as he entered the Cathedral shortly after the public visitation began at 9 a.m. Connors worked with Bishop Timlin during his entire tenure as mayor which lasted from 1990 to 2002.
"He was very kind to me before I was mayor, while I was mayor and after I was mayor," Connors explained. "He had a good heart, totally dedicated to God and the people. He loved every neighborhood here."
William Nolan, who has been a member of the Cathedral parish since 1974, remembered the day Timlin was ordained a Bishop and thousands filled the streets.
"I thought the world of him," Nolan said. "He was a very, very holy man. He loved people."
Patrick Williams, President of Pennsylvanians for Human Life in Scranton, remembered Bishop Timlin as being unapologetically pro-life.
"We would always go to Bishop Timlin or Bishop Dougherty when we had issues that needed attention. Both of them were fantastic," Williams explained.
While he didn't know Bishop Timlin personally, Mike Stevens of Dallas, said it was clear that Bishop Timlin was humble.
"He cared deeply about the Church and deeply about the parishioners and I think that example of humility is terrific especially in this crazy world that we live in," Stevens said.
OUR NEED FOR MERCY
With the funeral services taking place shortly after the Second Sunday of Easter, also known as Divine Mercy Sunday, the theme of "mercy" played a significant role in the reflection of Monsignor Vincent Grimalia, who offered reflections during a private Vespers service on Monday, April 17, 2023, at Villa Saint Joseph in Dunmore.
At Bishop Timlin's request, a private viewing for family members was held the day before his burial Mass.
"After celebrating Divine Mercy Sunday yesterday, during these 50 days of Easter, we have a context for our gathering, that reminds us of the loving mercy of God, that challenges each of us to live a life of mercy," Monsignor Grimalia said.
Msgr. Grimalia said Bishop Timlin lived a "spirituality of mercy."
"I think one of his favorite parables was the parable of the Good Samaritan," Msgr. Grimalia related. "He regularly visited local hospitals and hospice units when able. He also would read the obituary column and visit funeral homes, to pray for the deceased and console their family and friends."
During the private Vespers service, Msgr. Grimalia asked the crowd of roughly 50 to pray for Bishop Timlin and the good that he did.
"Let us also pray for all who touched his life and all the lives he touched," Msgr. Grimalia ended.
Before being taken to his final resting place at Cathedral cemetery, Bishop Bambera echoed those same sentiments.
Bishop Bambera also reflected on a conversation he had with the late Bishop Emeritus of Scranton just hours before his passing.
"On Holy Saturday afternoon about 2 p.m., I visited with Bishop Timlin to wish him a Happy Easter. Although I have visited him regularly during his stay at Marywood Heights, I found him during this particular visit to be far more buoyant than he had been for quite some time. He told me that he had a plan to return toward his residence," Bishop Bambera said. "He said, 'I'm feeling pretty good right now, I think I can live to be 100,' and he said, 'But whatever God wants is what I'll do." A few hours later, in the early morning hours of Easter, God wanted him home so we give thanks for Bishop Timlin. We give thanks for the good that he did. We give thanks for the lives that touched him and the lives that he was able to touch and we pray that God's mercy envelop him now and give him peace."