SCRANTON – Throughout the Diocese of Scranton's 155-year history, teaching the Catholic faith to its young people has been one of its most fundamental missions.
To ensure Catholic school education will continue for decades to come, the Diocese of Scranton is launching "Our Faith. Our Students. Our Future." – a new strategic growth planning process.
The process will build upon the many successes the 19 Catholic schools in the Diocese of Scranton have seen over the last few years and proactively address challenges along the way.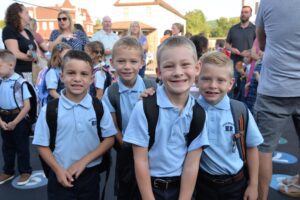 "As we examine our current state, we are poised and ready for this planning process and see it as an opportunity to make our extraordinary Catholic school education in the Diocese of Scranton available for generations to come," Kristen Donohue, Diocesan Secretary of Catholic Education/Superintendent of Catholic Schools, said.
Over the last several years, Catholic schools in the Diocese of Scranton have distinguished themselves in several different ways. During the COVID-19 pandemic, students, families, educators, administrators and priests worked together to be innovative and became a benchmark for other schools to follow.
"In the safest learning environment possible, schools not only opened their doors for in-person education, but did so with compassion," Donohue continued. "We continued to focus on allowing each student the opportunities to grow to his/her God-given potential. We continued to monitor academic growth through regular assessments, using this data to provide responsive and appropriately rigorous, differentiated instruction."
It is from this position of strength that Diocesan Catholic schools will plan for the future.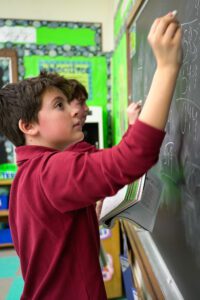 "I am hopeful that when this process is complete, we won't simply set goals and objectives for our 19 schools for the next five or 10 years," the Most Rev. Joseph C. Bambera, Bishop of Scranton, said. "Hopefully we'll be able to continue to make Catholic education affordable and accessible to a new generation of students who we will welcome into our schools."
Bishop Bambera is hopeful the strategic growth planning process will give everyone a voice in shaping the future. Whether it is through surveys, interviews, working groups or simply praying for the planning process, the bishop is hopeful everyone will participate.
"I want to stress that we are not going into this process with some preconceived ideas or plans to change or to reorganize our system. We did that already," Bishop Bambera added. "Instead, we need to assess the current reality, we need to define what our priorities are and we need to continue to do everything we can to develop a strong, financially sustainable vision for our Catholic schools allowing them to remain vibrant and strong."
For the last two years, enrollment in many Catholic schools has increased, so one of the challenges ahead is examining best practices for recruitment and retention of students and school families in order to continue seeing increases in enrollment.
Likewise, overall financial stability, addressing aging infrastructure, and recruiting and retaining dedicated teachers and administrators will be critical.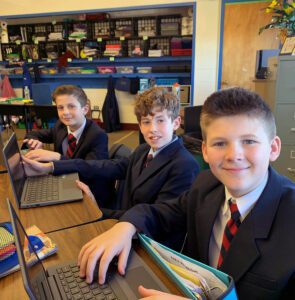 "We need to face our challenges with the same strength, creativity and confidence seen throughout the past four years," Donohue noted.
The areas of focus for the strategic growth planning process will align with the National Standards and Benchmarks of Effective Catholic Elementary and Secondary Schools: vibrant Catholic identity; academic excellence; governance, leadership and engagement; and operational vitality and financial stability.
The timeline for "Our Faith. Our Students. Our Future" will be divided into phases and take between one and two years to complete. The first phase involves data collection and analysis. The second phase focuses on the development of the strategic plan itself and the third phase involves implementation.
Bishop Bambera said the planning process will allow our Catholic schools an opportunity to grow, learn, change, improve, and move closer to the vision that God has for us.
"It's important for us to look at where we are, to take this moment and be proactive, to reflect, to think, to pray and to plan for how we can be better – and how we can take where we are – and really carry it into the future," he said.
Additional information and updates on "Our Faith. Our Students. Our Future" will be available on the Diocese of Scranton website as the process progresses.