SCRANTON – The liturgies of Holy Week began with the celebration of Mass for Palm Sunday, April 2, in parishes around the Diocese of Scranton.
At the Cathedral of Saint Peter, hundreds gathered as the Most Rev. Joseph C. Bambera, Bishop of Scranton, served as principal celebrant for the 12:15 p.m. liturgy.
"God is love, and the cross of Christ, which looms over the message of the scriptures this day, is the supreme proof, the historical demonstration of this reality," Bishop Bambera said during his homily.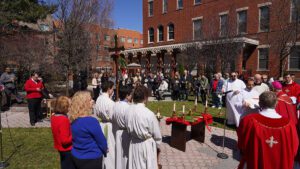 On Palm Sunday, the Church celebrates Christ's triumphal entrance into Jerusalem to accomplish the Paschal Mystery of His death and resurrection. The Gospels record the arrival of Jesus riding into the city on a donkey, while the crowds spread their cloaks and palm branches on the street and shouted, "Hosanna to the Son of David" and "Blessed is he who comes in the name of the Lord."
The bishop began the Mass by blessing palms in the Cathedral Prayer Garden and then processing down Wyoming Avenue to enter the Cathedral.
"We're reminded in Saint Paul's letter to the Philippians that although He was God, Jesus emptied Himself and took the form of a slave, a servant," Bishop Bambera explained. "He sought, according to His Father's plan, to embrace the brokenness and suffering of our world in order to save us from ourselves and to give us a way forward in life."
Bishop Bambera will also celebrate Masses for the Sacred Paschal Triduum at the Cathedral of Saint Peter.
On Holy Thursday, April 6, the Evening Mass of the Lord's Supper, which marks the day on which Christ instituted the Holy Eucharist and the priestly Order, will be celebrated at 5:30 p.m.
On Good Friday, April 7, the Commemoration of the Passion and Death of the Lord will begin at 12:10 p.m.
Holy Saturday, April 8, is the day that the Church waits at the Lord's tomb in prayer, meditating on His passion and death and awaiting His resurrection. Bishop Bambera will be the principal celebrant and homilist of the Easter Vigil Mass at the Cathedral beginning at 8 p.m.
On the Holy Night of Easter, many individuals who have participated in the Rite of Christian Initiation of Adults (RCIA) will become fully initiated Catholics by the celebration of their Baptism, Confirmation, and reception of the Eucharist for the first time. This year, 162 people are expected to celebrate in parishes throughout the Diocese. They join tens of thousands of other individuals throughout the world who will become members of the Church that night.
Easter Sunday of the Resurrection of the Lord is the most joyous day in the Church year. This joy overflows into the 50 days of the Easter season, which concludes on Pentecost Sunday. On Easter Day, Bishop Bambera will celebrate a Pontifical Mass at 10:00 a.m. at the Cathedral.