MOUNTAIN TOP – A new academic year is underway for thousands of Catholic school students across the Diocese of Scranton.
As children and young adults return to their studies, they are returning to 19 schools that prioritize strong academic programs, a commitment to faith and a family-centered community where love and respect abound.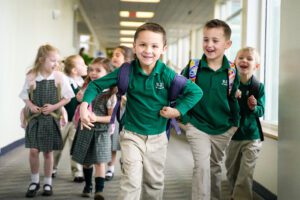 At Saint Jude School in Mountain Top, students, faculty and families work together to create a special environment.
"The kids that are in my class, that have been here since kindergarten, are all very close," seventh grader Hannah Fauerbach said.
Dedicated teachers play an important role in the success of each school.
They plan interactive STREAM activities, connecting science, technology, religion, engineering, arts and math, in lessons for all grade levels.
"We have a lot of activities in social studies, literature, English and science," seventh grader Leah Smith said.
"I feel like they know each kid individually and they get to know their kids and they care about their children and my kids see that and they connect with the teachers and they have a special bond," parent Rebecca Cabrera explained.
It is clear Christ is the reason for Saint Jude School.
Through artwork on display in the hallways, He is the unseen – but ever present – teacher in each classroom. Students are invited to become His disciples by praying daily and celebrating Mass weekly in neighboring Saint Jude Church.
"In the morning and in the afternoons we have prayers and then after lunch we have prayers," seventh grader Elizabeth Bilbow said. "They really emphasize just how much religion means to us."
"During Lent, every Friday, we do the Stations of the Cross and not many schools do that kind of stuff anymore so that just sets us apart," fifth grader Robert Marcalus added.
Parents are also actively involved in the school.
Take for instance Saint Jude's Field Day at the end of the 2022-23 academic year.
More than 70 parents volunteered to participate. There is never a project too big or too small that parents will not tackle.
"Things get done. Things come together. People want to make things happen and make a great place for our kids," parent Jill Carone said.
The Diocesan Annual Appeal directly benefits all 19 Catholic schools in the Diocese of Scranton, including Saint Jude School.
Your gifts help each student learn that God is present and active in their lives.
With enrollment growing at Saint Jude School, Sister Ellen Fischer, school principal, says so do requests for tuition assistance.
"The (Diocesan Annual) Appeal is so important because the reality is, there are other families who want a Catholic education for their children, and the reality is sometimes they can't quite afford it," Sister Ellen said. "Donations to the school in various ways assists with making that a reality. We have to serve all God's people."
By your financial support of the Diocesan Annual Appeal, Saint Jude School can continue to be that warm, welcoming environment where even more students can come together to learn about and glorify God.
"We've got Saint Jude Spirit and we're not afraid to show it and no one else can copy it!" sixth grader Rachel Atwal said.