WASHINGTON – Tens of thousands of pro-life advocates descended upon the nation's capital for the 50th March for Life Jan. 20 – the first national march since the overturning of the U.S. Supreme Court's 1973 Roe v. Wade decision that initially prompted the annual demonstration.
Many of those in the crowd for the historic moment were from parishes, schools and community groups in northeastern and north central Pennsylvania.
"I always find the march very impactful and whenever I hear the speakers and the information they give, like the number of babies killed or the number that we saved, it always gives me goosebumps," Dominico Cordo, 16, said.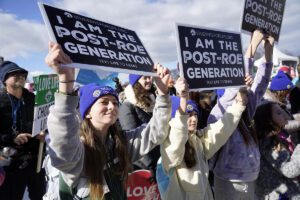 The Brodheadsville native, who is a member of the youth group at Our Lady Queen of Peace Parish, said this is the tenth year he has attended the March for Life overall. Currently a sophomore in high school, Cordo makes it a priority to attend because it provides a powerful witness to the world about the importance of valuing life.
"In my generation, I know there are a lot of young kids who are pro-choice. Whenever I go to the March for Life, it shows me that a lot of kids still believe that life is sacred and special," he explained.
Cordo was one of 15 young adults and several chaperones from Our Lady Queen of Peace Parish in Brodheadsville and Saint Matthew Parish in East Stroudsburg who took a bus down to Washington. Students from Marywood University as well as other pro-life advocates joined them.
"I saw people who came from New York, Ohio, Louisiana, Idaho and even Wyoming," Marco Morocho, 17, of Saint Matthew Parish, said.
While many of the young adults have attended the march before, this year was the first time Katie Smith made the trip.
"I thought it was a pretty amazing experience," the 15 year old said. "Every person counts and every person can make a difference."
Smith said the speech of Sister Mary Casey O'Connor, who has a twin sister with Down syndrome, really touched her heart.
"I just found her words and her love to be very empowering," the teen explained. "Not many people my age talk about things like this. I feel like a lot of young people are too afraid to have an opinion or they just don't understand."
The national March for Life first took place in Washington in 1974 in response to the Roe decision legalizing abortion nationwide the previous year. The march has taken place in Washington each year since, with a smaller-in-scale event during the COVID-19 pandemic in 2021.
The 2023 event was the first national March for Life since the high court's June 2022 ruling in Dobbs v. Jackson Women's Health Organization that overturned Roe and returned the matter of regulating or restricting abortion to state legislatures.
At the pre-march rally, the Christian band "We Are Messengers" performed, followed by a number of speakers, including Jonathan Roumie, known for his role as "Jesus" in the television series "The Chosen," former Indianapolis Colts Head Coach Tony Dungy, and Gianna Emanuela Molla, the daughter of Saint Gianna Beretta Molla.
Canonized in 2004, St. Gianna gave her life for Gianna Emanuela, choosing to move forward with her fourth pregnancy even after doctors discovered a tumor in her uterus.
"The energy was definitely the same. It was high energy. Everyone is still passionate and committed to the pro-life cause," Dori Hurley, Youth Ministry Coordinator for Our Lady Queen of Peace Parish, said. "They talked a lot about the 'next steps,' taking care of mothers and being able to provide for them so they can bring life into the world. Coach Dungy and Jonathan Roumie also spoke about how important prayer is especially at this time. It is as critical as ever to pray because God hears our prayers and he has heard them thus far and overturned Roe v. Wade and he will hear them in the future as we push towards the states to eradicate this genocide."
Sean Robbins, Director of Youth and College Ministry at Saint Matthew Parish, said the atmosphere at this year's march was more "joyful," whereas in the past it was "hopefulness" that Roe would one day be overturned.
"You could feel it in the air that Roe v. Wade was finally overturned and now we can move forward and really get close to making the thought of abortion not only illegal but unthinkable," Robbins said.
As he works with teenagers in the Poconos, he sees young people wanting to get involved in standing up for life.
"They could have a classmate this year who has an unexpected pregnancy out of nowhere and want to know how to help this classmate or how to talk to them about the beauty of their child and other options," he added. "Rather than just saying 'abortion is wrong,' they want to meet her where she's at, and get her to see the baby as something that is not a burden but a blessing."
Standing on the event stage at the National Mall, with the U.S. Capitol visible in the background, Jeanne Mancini, March for Life president, told attendees the annual March for Life would continue until abortion is "unthinkable."
"While the March began as a response to Roe, we don't end as a response to Roe being overturned," Mancini said. "Why? Because we are not yet done."