NANTICOKE – As a young mother and wife, Beth Powers had been asking God to bring new women into her life. The Holy Spirit answered her call during a retreat she attended in late January.
"I didn't know what to expect. I didn't know how many people were going to be involved and I didn't know any other women coming into this. I knew that I wanted to strengthen relationships with the women I already had and feel that I could rest in the Lord and that is exactly what I got out of this retreat," she explained.
Powers was one of nearly two dozen women between the ages of 21 and 40 who participated in the 'Chosen' retreat for young Catholic women Jan. 27-29 at Holy Family Center in Nanticoke.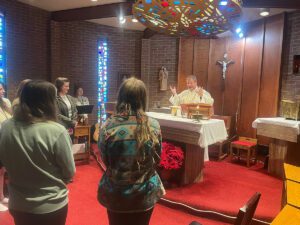 As a parishioner of Saint Elizabeth Ann Seton Parish in Swoyersville, Powers believes the gifts she received from the retreat were "invaluable."
"These are exactly the relationships that I have been asking God to bring into my life," she added. "I have been beyond blessed with so many gifts from just a few days."
During the retreat, the young women listened to inspiring talks, participated in small group sharing, attended Mass, Adoration and had the opportunity for Reconciliation.
"For a couple of years now, I have been really interested in seeking community with other young adults who are Catholic and when I found out there was this retreat specifically for young women, I decided to give it a try," Megan Kinney, a parishioner of Saint Boniface Parish in Williamsport, said.
Kinney said she saw God work through the speakers and really enjoyed meeting all of the other women who participated.
"I am definitely taking away that I am a 'chosen' daughter of the Lord and He gives me my identity and I can share that with others and build community and hopefully try to proclaim His glory and His name to other young adults," she added.
The Diocesan Office for Parish Life put the 'Chosen' retreat together with assistance from Kylie Ballinger, who is an ECHO apprentice currently serving at Saint Jude Parish in Mountain Top.
Ballinger has participated in retreats like 'Chosen' previously and wanted to empower other young adult women in their faith.
"I wanted to give them a chance to see that the Lord is active and working in other women's lives around them and they can come together and be united in Christ," Ballinger stated.