SCRANTON – On the eve of the 2023 March for Life in Washington, the Most Rev. Joseph C. Bambera, Bishop of Scranton, urged people to be "fearless" in defense of the unborn and mothers in need.
"We engage this noble cause not for political reasons. We engage it because of who we are as Christians, because of our belief in Jesus Christ and the Gospel that he proclaimed," Bishop Bambera said.
During his homily at the Diocese of Scranton's annual Mass for Life on Jan. 19, 2023, the bishop said in addition to the unborn, the faithful must also be fearless in defending those who are elderly, sick, poor, disabled or imprisoned.
"We can never shrink from confronting life issues in our prayer, in what we teach as a church and in the pastoral care that we offer. We must also never shrink from confronting life issues when we vote. We must never shrink from confronting life issues in the initiatives and public policies that we are able to influence in our volunteer efforts, in the daily activities of our lives and in all that we do that sometimes can even unwittingly exploit the most defenseless among us," he continued.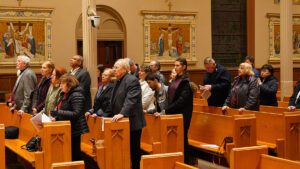 More than 125 people attended the Mass at the Cathedral of Saint Peter while hundreds of others watched online and on television.
More than a dozen parishioners from Sacred Heart of Jesus Parish in Peckville, led by their pastor, Father Andy Kurovsky, filled the first few pews of the Cathedral during Mass.
"It is important for us to stand for life, to support our bishop and our diocese and pray for a culture that respects life from conception to natural death and every moment in between," Ann O'Brien, pastoral minister for outreach at Sacred Heart of Jesus Parish, said.
O'Brien appreciates that the Diocese of Scranton offers an opportunity to pray for pro-life efforts, especially for people that are unable to travel to the March for Life itself.
"Right now, I have a sprained ankle so there are people who cannot make it and make the march but having something local is very doable," she added.
Sacred Heart parishioners Pam Gregorowicz and her daughter Grace, 16, attended the Mass for Life and traveled to Washington the following day.
"We have to continue to show a stance for life. This is a big hurdle but our work has really just begun because now we have to take that to the state level and we have to be a voice for those who don't have a voice," Pam explained.
"The more people praying together and fighting, the more powerful an impact it has," Grace added.
With the Supreme Court this past June overturning Roe v. Wade, the 1973 ruling that asserted that abortion was a constitutional right, Bishop Bambera also echoed the theme of the March for Life itself, "Next Steps: Marching in a Post-Roe America," as he spoke to the faithful.
"For as encouraging as this past year has been, the task that we have engaged to build a culture of life and to create a vision of the world in which the beauty of the human person is treasured and respected, still remains unfinished," Bishop Bambera said.