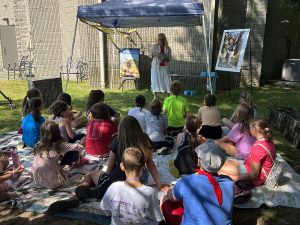 MOSCOW – While many parishes are busy preparing their religious education programs for the fall, students in many communities are still talking about the fun and learning that went on over the summer!
With concerns over the COVID-19 pandemic easing a little this year, many parishes hosted their normal Vacation Bible School programs.
At Saint Catherine of Siena Parish, dozens of students between the age of three up to fifth grade participated in a program from July 11-15. The theme of this year's event was "Rocky Railway" and featured an elaborate set of props including a moving train in the parish parking lot.
"We're celebrating the power of Jesus who has helped us through a difficult time," Sandy Czyzyk, Director of Religious Education at Saint Catherine of Siena Parish, said. "The train, in a sense, is Jesus' strength, power and energy."
The staff at the parish works several months to prepare an interactive program that features bible stories, music, dancing and crafts.
"I love working with the kids. I helped teach the kindergarteners this year and seeing the little kid's faces light up when they learn about Jesus just makes me so happy," volunteer Carly Bajor said.
"I've been doing Vacation Bible School for about ten years now. What keeps bringing me back is the kids. I love coming back every year and watching them grow up, grow in their faith, make friends and be so excited to be a part of this community," volunteer Marie LaRosa added.
Many of the students who participated say they loved the week so much, they're already looking forward to next year.
"I liked the music," student Nora Sullivan said.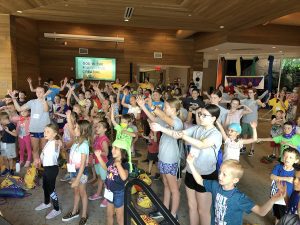 "I learned some nice songs. At bible stories, I learned some pretty neat things," student Lucca Gabello added.
During the week of June 27-July 1, the parishes of Our Lady of the Snows, Church of Saint Gregory and Saint John Vianney all came together to host a joint Vacation Bible School for all three communities in Clarks Green.
"On Monday, they (the students) came in all timid and shy. On Tuesday, they came running in. Mom and dad didn't even need to bring them in, they were singing and dancing," Sue Burke, Director of Faith Formation at Our Lady of the Snows Parish, said. "Knowing that they're growing in their faith every day just warms my heart."
The theme for the joint Vacation Bible School was "Spark."
"We focused on 'what's your spark!' The children were supposed to identify something that gives them purpose and how to use it for God's plan," Ruth Fried, Religious Formation Director at the Church of Saint Gregory, said.
The three parishes decided to host a joint Vacation Bible School because all of the parishes are located in the same deanery and their faith formation directors have been networking in an intentional way.
"God brought us together for a reason and we're here to change the lives of these kids," Kristin Travis, Director of Faith Formation at Saint John Vianney Parish in Montdale, said. "Saint John Vianney hasn't had a lot of children attending Vacation Bible School the past several years and we really wanted to have them involved!"
Just like in Moscow, the students who participated say they learned a lot.
"I think it's fun how they are able to incorporate God into all the activities that we do," student Gretchen Duffy said.
"I think it's good that kids from other parishes are coming together as one. A lot of these kids go to school together and know each other so it's good for them to have a place that they can all come together at the same time," student Eddie Scavone added.