SCRANTON – Benita Trently has been attending the Solemn Novena to Saint Ann for years and was thrilled this year's annual devotion included a Mass in Spanish for the first time.
"There is a big Spanish community so hopefully they will start coming and start participating," Trently said.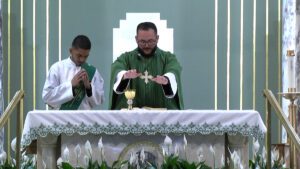 On Sunday, July 23, 2023, Father Luis Daniel Guivas, C.P., who is originally from Puerto Rico, but currently stationed in Queens, N.Y., celebrated the first Spanish Mass for the Novena at 1:30 p.m.
"The hope is to have this first step so we can promote it so we can have a bigger celebration next year during the whole Novena," he said.
Jonathan Ramos, who is in formation for the Passionist community, said it is important to welcome people of all backgrounds and languages.
"Having this today is a great opportunity to get to know more people, our neighbors, and have the opportunity to serve them," Ramos explained.
Very Rev. Richard W. Burke, C.P., rector of Saint Ann's Shrine Basilica, said he is hopeful that for the Novena's 100th anniversary next year they will be able to offer daily Masses in Spanish.
"I'm hoping that we're going to be able to inaugurate a daily celebration in Spanish next year. We have so many members of Hispanic origin who are very devoted and dedicated people and I think it's very important to make something available to them as part of the Novena," Father Richard said.
That news is very exciting for Trently, who believes Saint Ann performs many miracles.
"My mother was very sick two months ago and I prayed to her (Saint Ann) to leave her here and she did, so I do believe she fulfills miracles," Trently said. "My mother is healthy now. She is doing much better!"