SCRANTON – The annual Mass of the Anointing of the Sick during the Solemn Novena to Saint Ann brought out a large crowd on July 20, 2023, as hundreds chose to experience the healing presence of Jesus in their lives.
"It means everything to me. I love it," Patricia Williams said.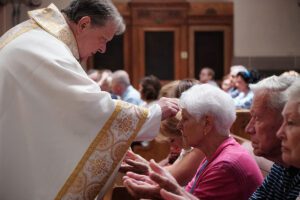 Williams, a native of Scranton, made a special effort to attend this year's Mass with her friend.
"I got my friend to come because she just had an operation and I came for my eyes," she explained. "I might lose my eyesight because of macular degeneration in my family. I mainly came for that."
During his homily, Very Rev. Richard W. Burke, C.P., rector of Saint Ann's Shrine Basilica, described two precious moments he had recently celebrating the sacraments. One was with a 92-year-old nun and the other with a person in a coma who later recovered.
"The Sacrament of the Anointing is a very powerful moment of grace for everyone who wants to receive it, anyone who is sick, any of us who are elderly," Father Richard explained. "It is a wonderful opportunity to look into the eyes of Jesus and discover His love, discover His healing presence and discover His guiding force in the heart of our lives."
Elaine Jacklinski of Scranton believes attending the Mass of the Anointing of the Sick at last year's Novena played a part in saving her life.
"Last year, it was very beneficial for me because my heart stopped a few days after the Novena when I was in the hospital and I was brought back and I feel it was because of the anointing Mass that God was with me," the West Scranton resident explained.
While she admits it isn't as easy getting to the special Mass because of mobility issues, Jacklinski is thankful she was able to attend.
"This Mass is very special. It's very beneficial for me," she said.