DUNMORE – Seminarian Thomas Dzwonczyk has taken a step closer to the sacred priesthood after receiving Admission to Candidacy for Holy Orders from the Most Rev. Joseph C. Bambera, Bishop of Scranton.
A Mass with the Rite of Admission to Candidacy for Holy Orders took place on Wednesday, June 28, 2023, during the annual Quo Vadis Days summer camp.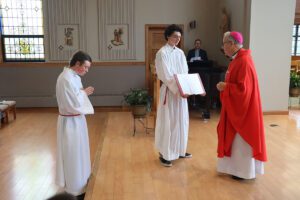 "This was a privilege to celebrate the Rite of Candidacy today with Bishop Bambera and a bunch of priests who have been influential in my formation," Dzwonczyk said.
"Having my family – my mom, dad and sister there – just made it all the more special."
The Rite of Admission to Candidacy for Holy Orders is celebrated when a man has reached a maturity or purpose in his formation and demonstrated the necessary qualifications for ordination to the diaconate. In the presence of the bishop, Dzwonczyk publicly expressed his intention to complete his preparation for Holy Orders and also his resolve to fully invest himself to that end, so as to best serve Jesus Christ and His Holy Church.
"It was very powerful. I was fighting back tears during the service," the North Abington Township native said. "I know that on my own I could never do it. I'm a broken and sinful man but He has led me to this point and I trust that He will continue to guide me through the next years of formation."
Dzwonczyk, a parishioner of Saint John Vianney Parish, never took part in Quo Vadis Days while he was in high school but was happy the Rite of Admission took place during the annual event.
"I was too shy and timid to actually do it when I was in high school but I'm amazed by the young men who are willing to give themselves to these three days. We've had some wonderful conversations, some great liturgies, Holy Hours and having them come up and say 'Congrats, I'm praying for you,' makes all the difference," he added.
Dzwonczyk, who has most recently been serving a pastoral year at Saint Jude Parish in Mountain Top and Saint Mary's Parish in Dorrance, credits his family for being by his side every step of the way.
"My mom texted me late last night and said, 'I'm offering my nightly rosary for you.' To have them present just makes it all the more special. I can't really put it into words. They have been so supportive along the way," he said. "I still remember the day I called them from school saying I want to enter seminary and now to think that they were here and to know that they'll be here for the rest of the way is incredible."