SCRANTON – When Bobby Wolliver returned to Saint Francis of Assisi Kitchen on July 31, the first thing he noticed was how bright the inside of the facility looked.
"It is wonderful. It's brighter," he said. "I'm happy to be home and back here again."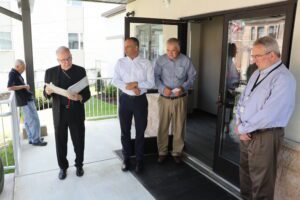 For ten weeks, the kitchen was closed for a "once-in-a-generation" renovation project. The nearly $2 million project involved replacing most kitchen equipment, expanding freezer space, creating handicap accessible bathrooms, creating a new front entrance along with painting and making the facility energy efficient.
"Every single ceiling has been replaced. Every light has been turned into an LED light, every wall has been painted," Executive Director Rob Williams said. "It is exciting to look around the room and see our people where they are most comfortable."
Albert Vosberg of West Scranton comes to Saint Francis Kitchen for a meal several times a week.
"I was blown away. It is amazing. It is like night and day. I just thank God that we have this place because without it a lot of people would go hungry," he said. "It is not only the food, it is the comradery. Everybody that works here is like my family."
Tania Durmiaki of Carbondale agreed.
"Some people live alone or they need to talk to people other than their family. It puts a smile on people's faces," she explained. "This is open to anyone."
Saint Francis of Assisi Kitchen serves 10 hot meals every week. They include a daily meal at 11 a.m. every day of the week (including weekends and holidays) and evening meals at 5 p.m. every Tuesday, Wednesday and Thursday.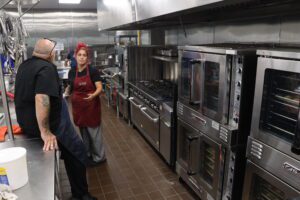 Each meal includes a garden salad, fruit salad, protein, starch, vegetables, dessert and beverages.
The kitchen also provides hundreds of weekly meals that are distributed at parishes in Carbondale, Olyphant and Roaring Brook Township.
"It is a wonderful mission we have here," volunteer Jane Roberts said.
Roberts, who was born and raised in Scranton, waited until the official grand reopening to see the completed renovation work.
"It is magnificent. It was needed. It is beyond what I expected. I love it," she said.
Head chef Selena Hitchens was excited to get back into the kitchen and prepare the first meal for the community.
"It's like feeling like a kid in a candy store, you know when you walk in and you see everything and your eyes just light up, that's how it felt walking in here and seeing everything," she said.
Monsignor Constantine V. Siconolfi founded Saint Francis of Assisi Kitchen in 1978. In those 45 years, officials believe there has only been four missed meals.
None of those missed meals occurred during this latest renovation project.
Lackawanna College allowed the kitchen to utilize its facility to prepare meals in its commercial kitchen. Meals on Wheels of Northeastern Pennsylvania let the kitchen serve its weekday meals out of its facility in the 500-block of Wyoming Avenue.
"They did a lot for us to have the meals at the other location," Durmiaki noted. "It was smaller but they did a lot."
The Most Rev. Joseph C. Bambera, Bishop of Scranton, led a short prayer service before blessing the renovated facility ahead of its first meal.
"This is a great day for all of us. It is really beautiful and we're very happy to be able to provide this to all of you," Bishop Bambera said.
The bishop read a short Gospel passage and prayed for all those who helped make the renovations possible as well as all those who will benefit from the project.
"We ask you, Lord, to bless us and all who use this building. May all who come here know the presence of Christ, experience His compassion and grow in His love," Bishop Bambera said.
Williams stressed that the mission of Saint Francis of Assisi Kitchen continues to be providing a space for people to have a warm, nutritious meal, no matter their circumstances in life.
"By taking good care of them and loving them, we emphasize that our brothers and sisters in need have dignity and are deserving of a dignified meal," Williams said.
With the renovation project now complete, Williams said Saint Francis of Assisi Kitchen can now focus on possible future expansion.
"We have a really strong staff. We must discern God's will for the future of this organization … I'm excited to see what God has in store for us," he added.