SCRANTON – On Thursday, Aug. 2, 2023, members of the Knights of Columbus presented the Most Rev. Joseph C. Bambera, Bishop of Scranton, with a charitable donation in the amount of $1,871.34 to support the good work of the Diocese of Scranton.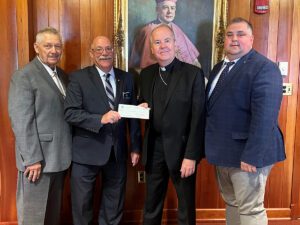 The donation came from money raised from the Knights of Columbus Labels Program.
During their meeting, Bishop Bambera expressed his gratitude to the Knights for the good works they are doing in many parish communities as well as for their active participation in many Pontifical Masses throughout the year.
The Knights encourage local families to participate in their Catholic School Student Grant Program. The Knights Educational Foundation offers up to fifty $1,000 grants to families who have Catholic School students enrolled in Grades 1-12 where the Knight of Columbus member's child is enrolled.
Applications are traditionally accepted during the month of January each year. For more information on the Catholic School Student Grant Program, visit kofcpennsylania.org.
Thank you to the Knights of Columbus for their continued generosity!