SUNYANI, GHANA – During a four and a-half hour Ordination Mass, the Most Rev. Joseph C. Bambera, Bishop of Scranton, ordained 14 men to the priesthood in the African nation of Ghana on July 8, 2023.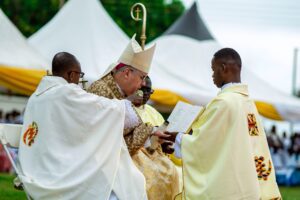 The Mass, which was celebrated on the lawn of Christ the King Cathedral in Sunyani, was filled with joyful music, singing, dancing and devotion to Jesus Christ.
At the beginning of the Eucharistic celebration, the Most Rev. Matthew Kwasi Gyamfi, Bishop of Sunyani, welcomed Bishop Bambera, noting this year is the 50th anniversary of the Diocese of Sunyani.
"For us to celebrate this, I invited a brother bishop, a friend bishop, a bishop who loves this Diocese, a bishop who is already helping many of our priests who have gone to his diocese to study and come back to help us," Bishop Gyamfi said.
During his homily, Bishop Bambera returned the warm and gracious welcome he received, indicating it is an honor, privilege and joy to celebrate the Ordination Mass.
"For some years, the Diocese of Sunyani and the Diocese of Scranton have grown in our relationship as sister dioceses in service to the Universal Church. It is a privilege to share with you our faith in the Lord Jesus," Bishop Bambera said. "My diocese is richer because of the presence of so many of your priests and sisters who are ministering to the faithful of our parishes. I can only hope and pray that your diocese, in turn, has also experienced God's blessings because of our relationship with you."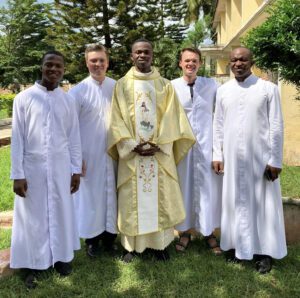 The bishop took a few moments to introduce seminarians Andrew McCarroll and Tom Dzwonczyk who have accompanied him on his return trip to Ghana this summer. Bishop Bambera first visited the Diocese of Sunyani last August for ten days.
"They are wonderful young men who are excited about their visit and anxious to experience the church in Ghana which I know will have a lasting impression upon them as they continue their priestly formation," Bishop Bambera noted.
Before celebrating the Rite of Ordination, Bishop Bambera also spoke directly to the 14 men who were becoming priests. He urged them to make the mission of Jesus their own, serve generously and be merciful.
"Never tire of being merciful. You have the capacity of forgiveness that the Lord had," Bishop Bambera said.
On Sunday, July 9, Bishop Bambera also confirmed 37 people at Holy Spirit Parish, located in Nkwabeng in Sunyani, where Father Clement Amankwah Yeboah is currently serving as pastor. Father Clement is beloved by many in the Diocese of Scranton, having generously served the faithful of Christ the King Parish in Archbald.
That same day, McCarroll and Dzwonczyk attended the first Mass of Rev. Eric Agyei Febiri who was ordained by Bishop Bambera the previous day. They shared photos and videos of the liturgy which took place at Saint Teresa of Avila Church in Berekum.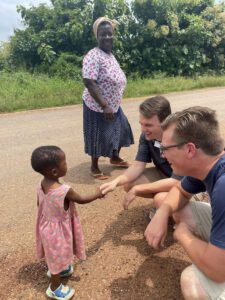 On July 10, Bishop Bambera and the seminarians also had the opportunity to visit Mole National Park to see the wildlife.
Some unexpected car trouble that stranded the group on the side of the road for roughly an hour was actually a blessing because they had the opportunity to visit with several children and families who came out to assist them.
Both seminarians remain in Sunyani and are sharing their journey with the faithful of the Diocese of Scranton on social media. Visit the Diocese of Scranton website, or follow us on Facebook, Twitter, Instagram or Threads to see highlights of their experiences.