LAFLIN — The Feast of the Holy Spouses will celebrated at the Oblates of Saint Joseph Chapel, Route 315, Laflin, on Sunday, Jan. 22, with a special Eucharistic liturgy at 3 p.m.
Guest celebrant and homilist for this year's feast day Mass will be Father Jeffrey Tudgay, Judicial Vicar of the Diocese of Scranton, who also serves as pastor of the Cathedral of Saint Peter.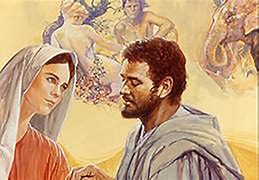 The annual celebration of the Holy Spouses honors the spousal role of the Blessed Virgin Mary and Saint Joseph, exalting the sanctity of marriage and family life within our modern world.
The special feast was approved by the Vatican for the Congregation for the Oblates of the Saint Joseph in 1989.
All faithful are invited to attend Holy Spouses celebration, which will conclude with a social.
For more information, contact the OSJ seminary office at (570) 654-7542.