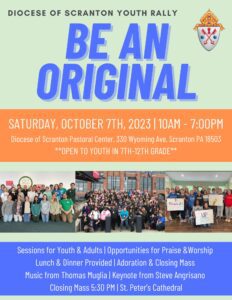 SCRANTON – Calling all teenagers! Are you looking for a highly energetic and engaging opportunity to celebrate the richness of our Catholic faith?
If so, the 2023 Diocese of Scranton Youth Rally is for you!
Students in grades 7-12 are invited to join together on Saturday, Oct. 7 for the Youth Rally which will revolve around the theme, "Be an Original."
Inspired by our first Millennial Saint, Blessed Carlo Acutis, students will have the opportunity to deepen their faith, make new friends and experience a day of fellowship and fun.
"The goal of the Diocesan Youth Rally is to provide an experience of the Universal Church for the young church of the Diocese of Scranton," Shannon Kowalski, Diocesan Director of Service and Mission, said. "Many parishes and programs are looking for a way to jump start youth ministry or create excitement in their young people and that is what we are aiming to do."
The Youth Rally will begin at 10 a.m. at the Diocesan Pastoral Center, 330 Wyoming Avenue, Scranton, and end at approximately 6:30 p.m. following the celebration of Mass at the Cathedral of Saint Peter.
Students will have the opportunity to participate in fun and engaging workshops, experience Adoration of the Blessed Sacrament as well as enjoy praise and worship opportunities with Steve Angrisano, a nationally known Catholic musician and speaker.
"Many of our students and adults know Steve from events such as Steubenville conferences, the National Catholic Youth Conference (NCYC) in Indianapolis and parish missions. Steve has come to our diocese for others events and has always left us with a great experience so we are happy to have him back!" Kowalski explained.
Singer/songwriter Thomas Muglia is also expected to participate in the Diocese of Scranton Youth Rally.
"We are very excited to have Thomas as our house musician. Thomas is a young singer/songwriter from Arizona. His passion for worship and community makes him an excellent addition to our event. He is also a part of the house band for this year's NCYC," Kowalski added.
The cost of the full day of events is $20 per student/$25 per adult.
Events like the Diocesan Youth Rally are supported by gifts to the Diocesan Annual Appeal, which fund the work of the Diocesan Office for Parish Life.
"Between the workshops, the live music and the general excitement of gathering together as a community, our intent is to show our young people that the church is grateful for them and welcomes their involvement," Kowalski said.
For more information or to register for the Diocese of Scranton Youth Rally on Oct. 7, visit dioceseofscranton.org or contact Shannon Kowalski at SKowalski@dioceseofscranton.org.