GREAT BEND – Hundreds of people took to the streets of Susquehanna County this month to celebrate their faith and heritage.
Members of the local Ecuadorian community held a procession throughout Great Bend Sept. 2 with an image of Our Lady of El Cisne, ending with the celebration of Mass at Saint Lawrence Church.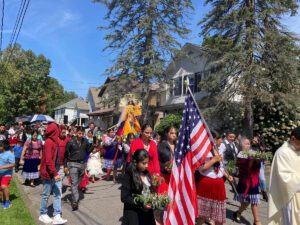 "Latin Americans are very devoted to Our Lady. She has been such a role model for our faith," Jose Flores, Diocesan Coordinator for Hispanic Ministry, explained. "They have a really strong love of God, our faith and to Our Lady of El Cisne."
During the Mass, an image of Our Lady of El Cisne, which was brought from Ecuador to be permanently placed in the church, was formally dedicated.
Throughout Ecuador, the faithful have figurines, shrines, pendants and other trinkets dedicated to Our Lady of El Cisne.
"Today's liturgy was very special. It was a long process of more than a year to get the image here and to see it happening is very, very special," Flores added. "The main purpose was, for the Ecuadorian community, to find a space in the church and this church is welcoming them."
In addition to the procession and Mass, the Ecuadorian community also celebrated with music, dancing and food outside of the church.
"It is a way for everyone to get together in the community. It's just exciting for everyone to celebrate," Ashlee Sanchez, a parishioner of Saint Lawrence Church said. "Our Lady of El Cisne is very special to us. She brings us hope when we need it."
Rosa Mishell Loja's father and uncles worked for months to make the celebration a success.
"I'm so excited because while I was here in America, I have never seen anyone doing this for Our Lady of El Cisne. It is our first time and it's going good so far," she said.
Melisa Loja Pulla agrees. She reiterated how important it is to honor Our Blessed Mother in this way.
"She is magic for us. She is always there for us. She takes care of us," Pulla said.
In his role as Diocesan Coordinator for Hispanic Ministry, Flores has helped to grow the Spanish-speaking faith community in Susquehanna County over the last two years. Your gifts to the Diocesan Annual Appeal help the Diocesan Office for Parish Life fund its Hispanic ministry efforts in several different communities.