AVOCA – Faithful from parishes around the Diocese of Scranton came together Sept. 7 to share the message of Our Lady of Guadalupe and pray in an intentional way for the unborn.
Queen of the Apostles Parish in Avoca hosted a Silver Rose program put together by the Knights of Columbus to promote a greater understanding for the dignity of all human life.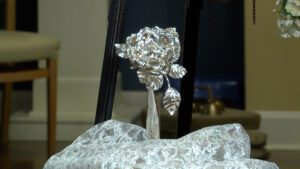 The daylong celebration began with the celebration of Mass at 8 a.m., followed by Adoration of the Blessed Sacrament all afternoon. The day concluded with a special Holy Hour at 7 p.m.
"The Knights of Columbus, who are very dedicated to life, are united around this and continue to find their unity as they honor the Mother of God," Rev. Phil Sladicka, pastor, Queen of the Apostles Parish, said. "We want to defend the child in the womb. We want to respect that life."
The Silver Rose program demonstrates the unity between Knights of Columbus in Canada, the United States and Mexico. Each year, from early March through mid-December, six silver roses are stewarded by Knights of Columbus councils along routes from Canada to Mexico. Every stop that each silver rose makes is an opportunity for a rosary-centered occasion for people to pray for respecting life.
"I believe in the power of prayer," Arthur Philipp, Jr., of Blessed Sacrament Parish in Throop, said. "The world is attacking life right now from all over and I believe a lot of people forget about the spiritual aspects of the world around us. I think it's important that we gather together and pray for Our Blessed Mother and for all those who are suffering and those who have gone through and had abortions."
Phil Rodney, a member of Knights of Columbus Cardinal John J. O'Connor Council 12967, said every Knights Council meeting opens with the Rosary in defense against abortion.
"It is a true honor to have the Silver Rose here today," Rodney said. "Our Lady of Guadalupe is the patron saint for life. Life is sacred no matter whether it's in the womb or on someone's deathbed."
Many who attended the Holy Hour called the experience "moving."
"I truly believe, with the Grace of God, that events like this are held to evangelize to the world the sanctity of life through Our Lady, through Our Lord and Saint Joseph," Thomas Gilchrist of Avoca said.
"The sanctity of life is very precious and by the Grace of God, and by the Grace of Our Lady of Guadalupe and Our Blessed Mother, maybe people will understand that," Barb Gregorio of Scranton added. "It was a beautiful service."
"Coming together with other people really strengthens me," Chris Shuleski of Duryea said. "It gives me a lot of joy to be with my brothers and sisters and the Lord."
Even though the Silver Rose was only in Avoca for one day, it helped many vocalize their respect for life for the unborn.
"It's not enough to keep our beliefs to ourselves. We have to show and tell other people what they are and in so doing, we become strengthened in our faith and our beliefs," Nancy Adomiak of Avoca said.