WILLIAMSPORT – Parishioners from Saint Joseph the Worker Parish in Williamsport participated in the Little League Parade which took over the downtown streets on Monday, Aug. 15, 2022.
The parish represented our Catholic faith to the community and those visiting the Williamsport-area from around the world!
In addition to having parishioners participate in the parade itself, the parish also had a food stand at the parade.
The local Knights of Columbus Assembly #942 helped escort Saint Joseph the Worker in the parade.
Members and friends of Saint Ann Catholic Church in Williamsport served up thousands of burgers, hot dogs, soft pretzels, and refreshments during the Little League World Series held in Williamsport August 17th through 28th.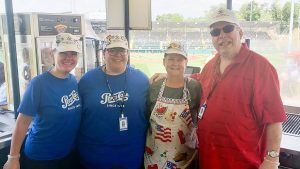 This is the third year Saint Ann has "welcomed the world" by serving spectators and players from around the globe as part of the concessions team during the series, fundraising thousands of dollars for the parish.
Pictured to the right, left to right: Caroline Cipriani, Becky Goonan, Susie Heilmann and Tim Heilmann.