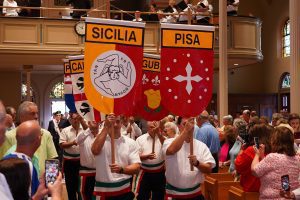 SCRANTON – "Buona Festa!"
As hundreds gathered inside the Cathedral of Saint Peter for the 46th annual Italian Mass on Sept. 4, 2022, the phrase, which can mean "good party" or "happy feast," was heard multiple times.
The liturgy is celebrated in conjunction with La Festa Italiana, which always occurs over Labor Day weekend.
"It really is an honor to be here this morning," said Jesuit Father Joseph G. Marina, president of The University of Scranton, as he began his homily.
While explaining he is half-Italian and half-Irish, Father Marina joked, "I have that proverbial combination of Gaelic and garlic."
Father Marina then dove right into his reflections on the Gospel reading, Luke 14:25-33, which includes the following: "If anyone comes to me without hating his father and mother, wife and children, brothers and sisters, and even his own life, he cannot be my disciple."
"What self-respecting, authentic Italian would want to hear about hating their families, especially during La Festa Italiana, and from Jesus no less," Father Marina asked.
In order to understand what Jesus is saying, Father Marina told the crowd you have to understand the original Greek from which the New Testament is written.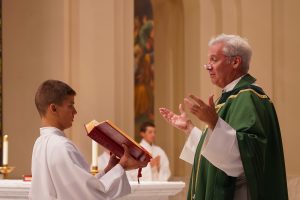 "When the Bible uses words like 'love' and 'hate,' the Greek version of those words, almost always refers to actions, not emotions and that is really important to take into account," he said. "What Jesus is saying, according to Luke, and in the original Greek, is that you have to make God your first priority if you want to be a disciple of Jesus Christ. Everything else, everything, must be secondary."
Father Marina ended his homily by saying each day is a perfect opportunity for people to reflect on their priorities and ask themselves if Jesus Christ and His Gospel are what they truly value.
The principal celebrant for the Italian Mass was Father David P. Cappelloni, V.F., La Festa Chaplain and pastor of Saints Anthony and Rocco Parish in Dunmore. The Most Reverend Joseph C. Bambera, Bishop of Scranton, presided.
As the Mass concluded, Bishop Bambera thanked all those in attendance, saying their ancestors would be proud.
"Thank you for your presence here today, for this celebration of our faith," the bishop noted. "It is so good, refreshing and exciting to see La Festa back in full force with thousands and thousands of visitors celebrating our great city of Scranton and the great tradition of our Italian heritage."
This year's Italian Mass was offered in memory of all those members and friends of La Festa Italiana who passed away since the last Mass was celebrated, including Most Reverend John M. Dougherty, Ed Balderson, Anthony J. Cali, Paul Casparro, Carole Coccodrilli, Rocco Damiano, Rosemary Gallagher, Jennifer Gregory Martin, John "Yogi" Jagodzinski, Marilouise Agnone Ruane, Alice Vanston and Pasquale "Pat" Yanni.