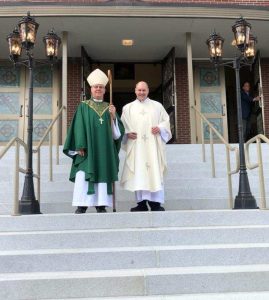 SWOYERSVILLE – On Sunday, Aug. 28, 2022, the Most Rev. Joseph C. Bambera, Bishop Bambera, celebrated Mass with the faithful of Saint Elizabeth Ann Seton Parish in Swoyersville, in honor of the saint's birthday on Aug. 28, 1774.
The bishop also blessed the new granite staircase at the parish. The extensive staircase work took place over the last few months and included new railings, lanterns and porch ceiling.
The bishop is pictured in the photo at the right with Father Joseph Pisaneschi, Pastor, Saint Elizabeth Ann Seton Parish.
Before blessing the new steps, Bishop Bambera told the parish faithful, "Look at them as more than steps, look at them as an entranceway that welcomes more and more people to experience the goodness of this community of faith."