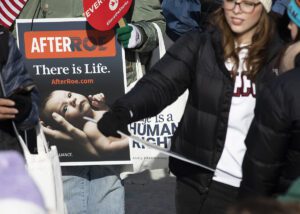 HAZLETON – The Hazleton Chapter of Pennsylvanians for Human Life will sponsor a bus trip to the annual March for Life on Friday, Jan. 20, in Washington D.C.
The details are as follows: 7 a.m. Mass at Saint Gabriel Church, 212 South Wyoming St., Hazleton, for those wishing to attend. The bus will leave from Saint Gabriel's promptly at 7:30 a.m. Parking is available in the church parking lot.
The bus is expected to arrive at the National Mall in Washington between 11 and 11:30 a.m., where attendees will listen to the rally speakers. The March for Life begins at 1 p.m. Bus pickup for return home will be at 4:15 p.m. at the Indian Museum, located on Jefferson Drive SW between 3rd and 4th streets.
Cost is $50 for adults and $30 for students/children. Fee includes water and snacks on the bus and a buffet dinner stop at Mountain Gate Restaurant.
To reserve a seat, call Carol Matz at (570) 956-0817. Payment is needed to confirm all reservations. Payment may be mailed to: Pennsylvanians for Human Life, P.O. Box 83, Harleigh, PA 18225.
A limited amount of scholarships are available for anyone with financial hardship who wishes to attend.
Anyone wishing to participate but who may be physically unable to march is welcome to join the trip and spend the day in prayer at the Basilica of the National Shrine of the Immaculate Conception.