HAZLETON – Compassionate. Loving. Caring.
Those are just a few of the adjectives used to describe Neil Oberto as the Hazleton community came together to honor and celebrate the long-time director of Catholic Social Services' Hazleton Office last month.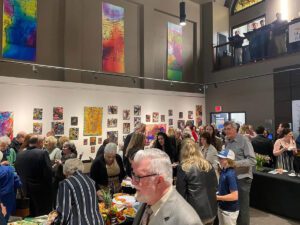 Hundreds of family, friends and people who have been touched by Oberto's dedication gathered April 29 at the Hazleton Art League for a "Celebration of Service." Oberto worked for Catholic Social Services for nearly 35 years, including 28 years as Hazleton office director, before retiring at the end of January.
"It truly has been a joy and a privilege to work for the agency all these years," Oberto said. "It was not only responding to emergency needs of food, clothing and shelter, which are so important, but it was also going beyond that with the numerous programs throughout the years, the mentoring programs, counseling programs, parenting services, programs that truly uplifted individuals and families on their road to self-sufficiency."
Terry Moran Bauder, who serves on the Catholic Social Services Advisory Board and is the retired director of Luzerne County Community College's center in Hazleton, said Oberto brought hope to many in the Mountain City.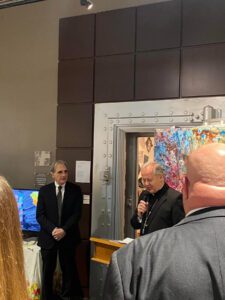 "Neil's deep walk of faith and his conviction that every person we meet is an image bearer of Christ has led him to treat each person that he served during his more than 30 years at Catholic Social Services with dignity and respect," she explained. "That helped them to work through hard times and to have hope for their future."
Timothy Trently, Division Manager for Service Electric, said if he could have one-tenth of Oberto's humility and compassion he would be happy.
"Everyone that touches Catholic Social Services, whether it be the food bank or needing clothing or the shelter, is part of Neil's extended family and Neil treated them with love, respect, humility and kindness," Trently explained.
All of the guests who came out to celebrate Oberto's retirement say there is no direct way to quantify how many thousands of people he touched over the years.
"Neil is truly the face of Jesus in our community. He has unconditionally loved everyone. He does whatever it takes to get something done to help whoever he can in any condition," George Hayden, President, Hayden Power Group, said. "He's the type of guy that doesn't ask, he just does it, he goes out and does what needs to be done in our community."