KINGSTON – U.S. Navy veteran Joe Bates started serving his country a few years after high school. By the end of his career in 1986, he was writing work packages for fast-attack nuclear submarines.
During the ensuing decades, reality and economic pressures took their course, and Bates ended up homeless. Making ends meet – while trying to save money for an apartment – was just not possible.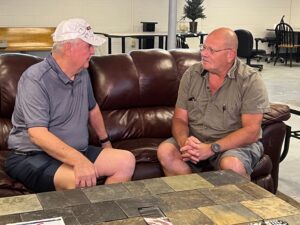 "You have to have your first month, your last month, a security deposit and it all adds up," he said.
After participating in a two-year program with the Veterans Administration, Bates found a new home in the former Saint Hedwig's School in Kingston. The building, now owned by Catholic Social Services of the Diocese of Scranton, is known as Saint Hedwig's Veterans Village.
The building has 12 apartments specifically designated for veterans who have a disability and were homeless at one time.
"It was exactly what I needed. It's not too big. It's not too small," Bates said.
Each veteran has his or her own apartment. The building also has a common area where they can spend time together and socialize.
Drawing upon his Navy career, Bates said, "This is kind of like a life preserver, so to speak, and you just keep your head above water long enough so you can get back on your own feet. That is the most difficult thing that I've seen dealing with veterans and being one."
After moving into Saint Hedwig's Veterans Village nearly ten years ago, Bates quickly bonded with Luke Malonis, who serves as case manager for Saint Hedwig's.
A Vietnam veteran himself, Malonis says Saint Hedwig's has been a blessing for so many.
"The one word we should never hear before 'veteran' is 'homeless' and unfortunately there are thousands," Malonis explained. "This is a fantastic place. It gives them security knowing that they have a place to live. Once they're in, they're in."
Bates is so thankful for the helping hand he is receiving, he cuts the grass and does minor maintenance work around the building.
"I'm sure I'm not unique in the opportunities that arose. I give all that to God. If it wasn't for Him, I wouldn't be in the position I'm in now," Bates said.
Bates recently got a full-time job with Kingston borough with the help of Malonis.
He is now saving up enough money to move out to South Dakota where his son and granddaughter live.
"I'll be heartbroken when I leave here because I love Luke. Luke is one of the greatest men I've ever met. He's got a heart bigger than anybody I know," Bates said.
Your gifts to the 2023 Diocesan Annual Appeal help Catholic Social Services maintain its commitment to veterans.
Donations help to keep Saint Hedwig's Veterans Village operating, as well as Saint Francis Commons in Scranton, which also houses more than two dozen veterans.
While the effort is costly, it is important and worthwhile.
"A lot of people get on hard times. They just need a helping hand and without these organizations, I believe it would be massively more difficult to do that," Bates explained.
"How could you not want to help a disabled veteran?" Malonis added. "I mean, if it wasn't for veterans, a lot of us wouldn't have the freedoms that we have!"