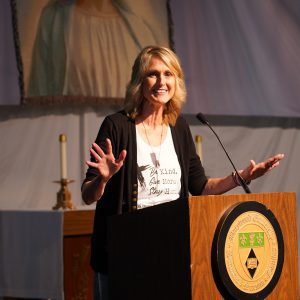 DUNMORE – After losing not one, but two children in less than a year, unbearable pain and suffering could have consumed Deb Hadley.
Instead, she turned that deep suffering into an opportunity to find God's love and help others.
"In every situation, you can choose to turn toward God or you can choose to turn away. We have a choice. I had to turn toward him if I was going to live," Hadley said as she addressed a crowd of more than 300 people at the 2022 Catholic Women's Conference on Saturday, June 11, 2022.
Women from around the Diocese of Scranton and beyond filled the gymnasium at Marywood University to listen to inspirational speakers and deepen their faith.
"It is really in the pains of hell, when you've been knocked down so low, that you have to surrender everything you have to God. There is something really beautiful about being that raw and vulnerable," Hadley stated.
During her hour-long speech, Hadley explained the circumstances of losing her daughter, Kaylie, in 2013 to SUDEP (Sudden Unexpected Death from Epilepsy) and her son, Tyler, a little more than nine months later.
She discussed her "survival guide," which included attending daily Mass, working on her relationship with the Lord, focusing on her blessings and making good things happen.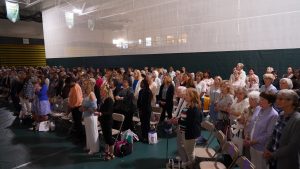 "Faith doesn't exempt us from difficulties," Hadley told the women attending the conference.
Pati Pawlik, a parishioner of Saint Eulalia Parish, Roaring Brook Township, was deeply moved by Hadley's talk.
"I think many of us have suffered loss in our lives," Pawlik said. "Speakers who speak on loss and grieving and the perils of going through grief show us that there's hope in God and hope in Jesus and that there's other people who have been down that road and we don't have to travel those roads alone."
Author, former presidential speechwriter and mother, Colleen Carroll Campbell, was keynote speaker for the conference. Her talk centered on her personal struggle with spiritual perfectionism. By studying scripture and the lives of the saints, she has found the tools to live a grace-filled life that is the gift of God's love.
"Spiritual perfectionism is rooted in the unspoken belief that we can earn God's love," she told the crowd.
Instead, Campbell told her audience that God is longing to embrace each one of us and we have to stop running from his mercy.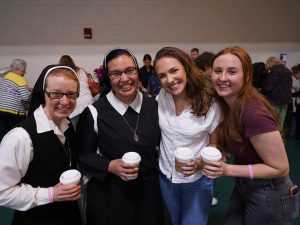 "Jesus isn't just willing to overlook our imperfections, he's burning to submerge them in the ocean of his love," she stated.
Conference attendee Teresa James walked away from the 2022 Women's Conference with that message in her mind.
"I think Colleen Carroll Campbell's message about spiritual perfectionism struck a chord with me, trusting in God's mercy and also looking at our lives and all the little things we do and offering small sacrifices up to God and seeing that he loves us so much and he has so much love in his heart for us," James explained.
The theme of this year's Women's Conference was "Full of Grace" in honor of Mary, our Blessed Mother. As he celebrated the opening Mass of the conference, the Most Reverend Joseph C. Bambera, Bishop of Scranton, focused his homily on Mary.
"Mary has known all of life, as you and I experience it," the bishop said. "We call her blessed – not because she reigns today as our Queen of Heaven – but because she walked our world and embraced it fully as a woman of faith and a disciple of her son, Jesus. Never forget that Mary's 'yes' to participate in God's plan of salvation didn't guarantee her a perfect world, free from suffering and pain."
In addition to Mass, women attending the conference also participated in Eucharistic Adoration, recited the Rosary, had the opportunity for the Sacrament of Reconciliation and could shop at the Catholic vendor marketplace.
Mary Labar described the conference as "incredible, amazing and uplifting."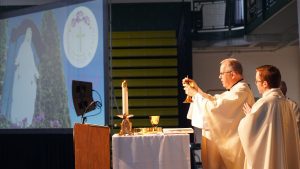 "This is what we need, the community of faith, to come together and praise Jesus and the Blessed Mother," she explained.
Conference organizers say the Holy Spirit filled the Marywood gymnasium.
"It is very inspiring that all these women came out today. We hope that they tell a friend next year and we double the amount of people that are here,"
Deborah Kennedy, chair of the 2022 Catholic Women's Conference, said.
Women are already being encouraged to save the date of next year's conference, June 10, 2023, in which the theme will be, "With the Holy Spirit."