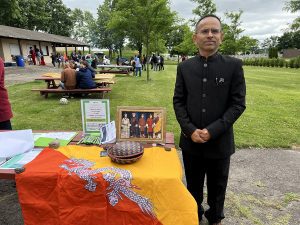 SCRANTON – Hundreds of people came together last month to celebrate their unity through diversity.
Catholic Social Services of the Diocese of Scranton and the Church of Saint Gregory in Clarks Green were two of the primary sponsors of World Refugee Day 2022. The event was held on Saturday, June 18, 2022, at YMS of R Grove in Scranton.
Ushu Mukelo, who has lived in Scranton for the last seven years, shared his story of fleeing the Democratic Republic of Congo.
"We had a war in our village and we had to move to Uganda. We ended up in a refugee camp where we lived for over 12 years," Mukelo said.
It took Mukelo more than four years to be able to come to the United States.
"It was a lot of interviews and making sure there was consistency. We had to go through medical check-ups and more. We had a one week orientation," he explained.
When Mukelo moved to Scranton, he had no family or friends to assist him, but found the community to be very welcoming.
"Besides non-profits that work with refugee families closely, we also had a lot of individuals volunteering to help our families in a lot of ways – whether it was taking children to schools to register them or it was helping us to apply for public benefits – we have not had any bad treatment," he explained.
World Refugee Day honors the strength, resilience and courage of millions of refugees throughout the world. The event in Scranton helped individuals share the rich cultural heritage of many refugee communities that have settled in northeastern Pennsylvania.
"I think it reiterates our sense of togetherness. We are people that want to be together," Mukelo said. "For us, it reminds us of the life we lived before the war broke out in the country and it's the life where you know who is close to you."
Those who attended World Refugee Day enjoyed food, cultural music, dancing as well as activities and games. The Most Reverend Joseph C. Bambera, Bishop of Scranton, was one of many people who attended the event, saying that refugees are simply seeking a better life for their families and children.
"We want you to feel at home here and we will do whatever we can as a Catholic community to help that happen," Bishop Bambera said. "We are blessed by your presence. You make our community stronger, better and richer."
Chandra Sitaula, President of the Bhutanese Cultural Foundation, also spoke to those gathered on behalf of the many people he represents.
"We are a growing community. We have thousands of people living in Scranton, in the South Side, in West Side," Sitaula said.
Sitaula, who fled Bhutan in 1990, first settled in the Bronx and Queens before moving to Scranton.
"This country looks a lot like our country – up and down with mountains," Sitaula said.
Since settling in Scranton, Sitaula has launched a non-profit organization, the Bhutanese Cultural Foundation Scranton Association, which is currently located on Pittston Avenue. It helps refugees find employment, learn English and get other assistance that they need.
"We're not only helping all the Bhutanese, but we're helping other people also," he added.