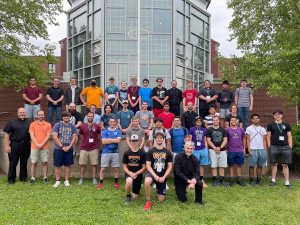 DUNMORE – From what college they want to attend or what job they are looking for, high school students face many questions about their future.
Each summer, the Diocesan Office of Vocations helps young men in high school explore vocational opportunities at Quo Vadis Days, a three-day camp that gives each person the opportunity to ask where God is calling them. In Latin, "Quo Vadis" means, "Where are you going?"
This year's camp was held June 19-21 at Marywood University.
"I don't want to leave. I'm enjoying it a lot," Matthew Sanchez, 14, said on the final day of Quo Vadis Days this summer.
The Stroudsburg teenager, who is a parishioner of Saint Matthew Parish, said the camp helped him grow in confidence.
"Today I got the courage enough to read at the Mass so that helped me a lot. People said I did well," he explained.
Throughout the three days, speakers visit to talk about the priesthood, religious life and marriage. Campers also participate in Morning Prayer, Evening Prayer, Mass, Adoration and more. The students also have plenty of free time to play pool, foosball, capture the flag, football and soccer.
"These are kids who want to learn about Jesus and want to figure out where God is calling them. For most people, that is not to the priesthood, but this is also a place where they can discern and talk about what it means to date as a Christian, what marriage looks like, how they should live their faith right now in high school," Father Alex Roche, Diocesan Director of Vocations and Seminarians said.
Liam Barry, 16, who is going to be a sophomore, is interested in the priesthood.
"I do volunteering at my church and I like to serve people and I like to talk about my faith and spread it," Barry explained.
The Sayre-native said he enjoyed getting to talk with many of the priests and seminarians from around the Diocese of Scranton and hear about all of the steps of becoming a priest.
"It's a lot more complicated than I thought. I thought it was just like going to college and then you get ordained. That's not how it goes at all," he added.
After attending Quo Vadis Days for several years as a high school student, Dominic Tavani, 20, is now serving on the young adult team that helped plan all the activities.
He said the three-day retreat helps young people to see priests as real people.
"Priests are human beings too. They love to play games. They were playing Ultimate Frisbee with us. They love to be around us and want to help us," he explained.
Seminarian Harrison Rapp, who participated in all of the activities along with the high school students, said Quo Vadis Days gives him a lot of hope for the future of the church.
"I think this is a great opportunity for the Lord to place seeds in their heart, even if they don't realize it, I think they'll leave here and recognize that was a good experience for me and hopefully it will be something they cherish as they go forward in their faith," Rapp said.
All of the participants interviewed by The Catholic Light say they are walking away with new friendships from this year's event. That is exactly what Father Alex Roche wanted to hear.
"I want those sorts of relationships to build up around the diocese because that is what is going to help the church to come alive for the next generation," he said.