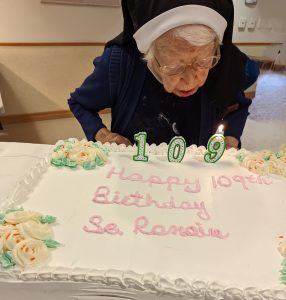 SCRANTON – On Monday, Sept. 12, 2022, Sister Romaine Krug, I.H.M., celebrated her 109th birthday.
She was born in 1913 in Ashville, Pa, to parents Matilda and Herman Krug, and given the name Verna. Sister Romaine and her sister, Franceline, joined the convent at Marywood in Scranton, on Sept. 8, 1940. Their sister, Hermine, joined two years later.
An educator and dietitian, she earned a master's degree from New York University and served many years on the faculty of Marywood College and as dietitian at the IHM Motherhouse and Marian Convent.
For the Diocese of Scranton, Sister Romaine was moderator of the Enthronement of the Sacred Heart Guild. Today, Sister serves joyfully as a prayer minister at Our Lady of Peace Residence in Scranton.
Happy Birthday, Sister Romaine!