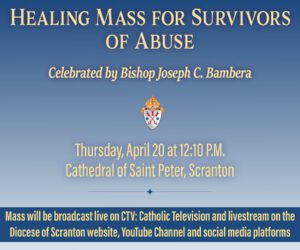 The month of April is National Child Abuse Prevention Month. It is a time to recognize the importance of families and communities working together to prevent child abuse and neglect.
The month of April gives us all a chance to recommit ourselves to creating safe environments in our parishes, schools and related institutions.
The Most Rev. Joseph C. Bambera, Bishop of Scranton, will celebrate the Diocese of Scranton's annual "Healing Mass for Survivors of Abuse" on Thursday, April 20, at 12:10 p.m. at the Cathedral of Saint Peter in Scranton.
For those unable to attend in person, the Mass will be broadcast live on Catholic Television of the Diocese of Scranton. A livestream will also be available on the Diocese of Scranton website, YouTube channel and links available on all Diocesan social media platforms.