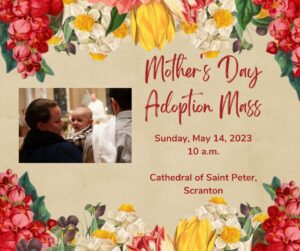 SCRANTON – The Diocese of Scranton will celebrate its annual Mother's Day Adoption Mass on Sunday, May 14, at 10:00 a.m. at the Cathedral of Saint Peter in Scranton. This liturgy prayerfully recognizes all mothers, with a special emphasis on adoptive and foster mothers. Bishop Joseph C. Bambera will be the principal celebrant and homilist.
The Mother's Day Adoption Mass is open to the public and all faithful are invited to attend.
CTV: Catholic Television of the Diocese of Scranton will broadcast the Mass live. A livestream will also be provided on the Diocese of Scranton website, YouTube channel and across all Diocesan social media platforms.
"A life without challenges doesn't exist," and that is one reason a child needs a mother, Pope Francis suggested in a recent speech.
Mothers fulfill a vital role by helping children "look realistically at life's problems," without getting "lost in them," the pope said. A mother helps her children "to tackle" problems courageously and to become strong enough to overcome the problems they inevitably confront.
Of course, in this role, a mother walks a fine line, seeking a "healthy balance" for a child, Pope Francis said. That means a mother "does not always take the child along the safe road, because in that way the child cannot develop, but neither does she leave the child only on the risky path, because that is dangerous."
A mother, said the pope, "knows how to balance things."
Pope Francis talked about mothers' roles during a visit to the Basilica of St. Mary Major, the oldest church in the West dedicated to Jesus' mother. May is observed in the church as a month of Mary.
Mark your calendars for May 14 and join us for the Mother's Day Adoption Mass as we pray for mothers, near and far, including Mary, Mother of the Church.