SCRANTON – With big smiles on their faces, three men from the community programs of Saint Joseph's Center eagerly handed out programs as people arrived at the Cathedral of Saint Peter for the Diocese of Scranton's annual Mass for Persons with Disabilities Feb. 12, 2023.
The trio of hospitality ministers – Joe, John and Matt – jumped at the chance to be involved in the special Mass that recognizes and celebrates the gifts that every person contributes to the life of the Church.
"They're here. They want to be here. They are so excited about getting out and experiencing this with the Church," Sister Sandy Grieco, I.H.M., Pastoral Care Coordinator with Saint Joseph's Center, said.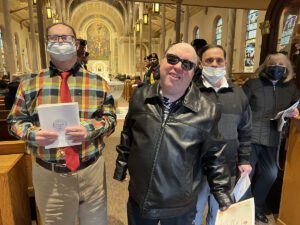 For the last several years, many residents of Saint Joseph's Center have been unable to attend the Mass for Persons with Disabilities in-person because of health concerns.
"They pray together and want to be together. They have a spirit that nobody else has," Sister Sandy added. "They have a goodness in their heart. They may not understand every word but they know the spirit. There is an unconditional love amongst them all."
The Most Rev. Joseph C. Bambera, Bishop of Scranton, served as principal celebrant and homilist for the Mass that was attended by more than 200 people. During his homily, the bishop reflected on his trip last year to Ghana, emphasizing how those with disabilities were warmly included in huge outdoor community celebrations of faith.
"Far from being a burden to those who brought them, the presence of those with disabilities was welcomed and their participation was quite obviously a blessing, not just for them but particularly to all who gathered with them," Bishop Bambera said. "The respect, love and acceptance that was extended to these cherished brothers and sisters was palpable. They were one with everyone else!"
Bishop Bambera also reflected on recent words of Pope Francis during a gathering in Rome for the International Day for Persons with Disabilities. The bishop said while Pope Francis indicated that making churches accessible with things like wheelchair ramps is important – the Church must also concentrate on making sure people's needs for "belonging" are also met so they can experience the fullness and blessing of the Lord.
In addition to Saint Joseph's Center, individuals from The Arc of Northeastern Pennsylvania and the Order of Alhambra also participated in the Mass.
"We encourage people with intellectual disabilities and support them and let them know they are not forgotten in our culture and society," Ada Magni, scribe of the exchequer and deputy supreme director of The Order of Alhambra, local caravan Alhamar #4, stated.
The local Order of Alhambra does many things including providing scholarships to students studying special education, helping financially challenged special needs children attend summer camps and supporting the Special Olympics.
"We bring cheer to them but they bring cheer to us," Magni explained.