DUNMORE – When Jessica Castro first signed up to participate in the ISLI retreat this summer, the Scranton teen would be the first to admit it was a leap of faith.
"The first day I was nervous and scared but you get comfortable with these people," she said. "You begin to talk and then you don't care because you're comfortable with them."
Castro is one of 20 high school students from parishes and schools around the Diocese who participated in the International Student Leadership Institute from June 20-23 at Marywood University.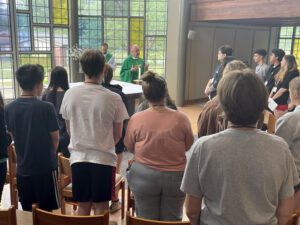 "You learn a lot of new things. You learn communication, support and other things. You meet new people and you feel more confident," Castro added.
ISLI is a peer-facilitated, faith-based leadership retreat designed by Father Thomas Chambers, C.S.C., at the University of Notre Dame. It is designed to help high school students excel in both leadership and membership roles of task-oriented groups.
During the retreat, participants improve their decision-making and problem solving skills through the teachings of the Catholic faith. The students also celebrate Mass together and participate in Eucharistic Adoration.
"The retreat is focused on the concept of leadership as a learned characteristic specifically rooted in our Catholic faith," Shannon Kowalski, Director of Service and Mission in the Diocesan Office for Parish Life, explained. "The students experience small group activities that go along with five objectives to help them understand various aspects of themselves, what they have to give towards leadership and how they can improve their leadership potential."
Zachary Schultz, a student at Holy Redeemer High School and parishioner of Saint Elizabeth Ann Seton Parish in Swoyersville, participated in ISLI for the first time this summer.
"I have enjoyed it … I definitely felt very welcomed and got to meet a lot of new people," he said.
In his school and parish community, Schultz admitted he has mostly been a "follower" but after participating in the ISLI program he said, "I'm going to try and be a leader."
Lauren Hayden, who also attends Holy Redeemer High School and is a parishioner at Saint Jude Parish in Mountain Top, attended the ISLI program for a second time after having a great experience previously.
"It has definitely had a huge impact on my own life … I'm part of the Student Council at Holy Redeemer High School," Hayden explained.
All of the participants got a chance to meet the Most Reverend Joseph C. Bambera, Bishop of Scranton, who celebrated Mass with them on the third full day of the retreat.
"Bishop Bambera has been great to us at ISLI. He comes every time we host the retreat to express his support for the kids and to get to know a little more about what we do," Kowalski said. "He also comes to issue a challenge that we need them in our diocese. The students at ISLI are not the 'future' of the church. They are the church now. At the end of this, he expects them, and we expect them, to go back and use what they have learned."
The ISLI retreat, which was first established in the 1980s, is traditionally offered twice a year in the Diocese of Scranton, once in the winter and once in the summer.
Because of the COVID-19 pandemic, this summer's event is the first in-person ISLI gathering in several years.
"We're having a restart right now because we had to take a couple years off because of COVID," facilitator Neil Albright explained. "We really want to see this program succeed. We want to bring it back and make it stronger because it meant so much to me in my life and I want nothing more than to share it with a new generation of kids."
Albright, who first attended ISLI in 2015, made life-long friends as part of the program. He said the leadership behaviors and styles he learned have helped him in many ways.
"It has made me a stronger leader in so many ways. It has strengthened my faith. It has helped me bridge the gap between my experiences in the world and my experiences in the church so beautifully and fully. I'm just really thankful I can be a part of it," he said.
"It is a pleasure of mine and the rest of the adult team to watch the students evolve over the time that they're here," Kowalski added. "Most of them come in unsure, uncertain, a little shy and nervous. By the end of the retreat they're loud, they're outgoing, and they're breaking out of their shells."