SCRANTON – Catholic Social Services of the Diocese of Scranton joined several community partners June 24 in organizing and sponsoring a World Refugee Day celebration at Nay Aug Park.
The event, attended by hundreds of people, included cultural songs and music, ethnic food, activities for children and information tables about local refugee communities.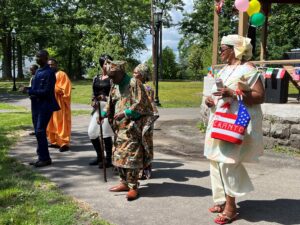 "We welcome you to the greater Scranton area and beyond and hope that you find a home in this area where you feel welcome and loved," the Most Reverend Joseph C. Bambera, Bishop of Scranton, said while addressing the crowd.
Bishop Bambera shared recent words from Pope Francis, in which the Holy Father said we are all called to show "maximum respect" for the dignity of migrants and must "construct bridges and not walls."
While acknowledging that nations have a right to control their borders, Bishop Bambera said the international community should protect refugees and asylum seekers. He highlighted the story of his own grandmother who came to northeastern Pennsylvania from Poland in 1912 in search of a better life.
"We are so privileged to have you here, to tap into your gifts and your talents and to find ourselves better and richer because of your presence," Bishop Bambera added.
World Refugee Day was established by the United Nations to celebrate the strength and courage of people who have been forced to flee their home countries to escape conflict or persecution. At the end of 2022, more than 100 million people were forcibly displaced globally – a record number propelled by the War in Ukraine and other conflicts around the world.
"We became refugees because of political situations," Chandra Sitaula of the Bhutanese Cultural Foundation of Scranton Association, said. "We are here from Bhutan, Congo, Afghanistan and many other countries."
Sitaula came to the Scranton area in 2012 after spending two years in the Bronx. He said there are roughly 7,000 Bhutanese people living in the greater Scranton area according to the 2020 census. He said the number is even larger – roughly 42,000 people – in the Harrisburg region.
"We want to introduce our culture, traditions, values and customs to the community and we need to learn other community's cultures, communications and religions," he explained.
Gulnar Siddiqi, a staff member with Catholic Social Services and refugee herself, said the agency works with hundreds of refugees each year.
"We are always here for refugees. Catholic Social Services has been working for many years with refugees as soon as they arrive in the country," Siddiqi said. "We want to show our refugees how important they are. We want to show our refugees that we are all one."
This year's theme was 'Hope Away from Home,' which focused on the power of inclusion and solutions for refugees.
"As a community, we must promote empathy and compassion towards those who have been forced to leave their homes and seek safety in a new country," Fikile Ryder, Director of Community for Catholic Social Services, added.
Since coming to the United States in 2017, Claudin Nyota of Congo says she has become a U.S. citizen and has found her neighbors to be very welcoming.
"I am happy. I love Scranton," Nyota said. "I'm happy to see friends here that have helped me, have shown me something good. I'm so happy to see everybody."
In addition to Catholic Social Services, World Refugee Day 2023 was sponsored by the Church of Saint Gregory in Clarks Green, The University of Scranton, United Neighborhood Centers of Northeastern Pennsylvania, Ignatian Volunteer Corps, Islamic Center of Scranton, Central Susquehanna Intermediate Unit, Congolese Community of Scranton, Bhutanese Cultural Foundation of Scranton Association, Saigon Corner Vietnamese Restaurant and the Pennsylvania Department of Education – Migrant Education Program.