DICKSON CITY – 'Camping in God's Creation' was the theme of this year's Vacation Bible School at Visitation of the Blessed Virgin Mary Parish.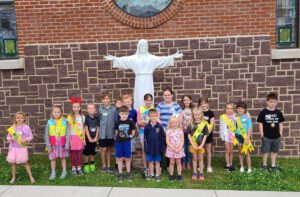 Nearly two dozen young adults spent the week of June 26-30 learning different Bible stories, participating in crafts and having fun.
"On Monday, we did the Creation Story to start our week. On Tuesday, we did Jesus is the Light of the World and we made lanterns to go with that. On Wednesday, we did the Ten Commandments and we talked about finding our way and following rules," Linda Skierski, Director of Religious Education, explained. "On Thursday, we did Simon the Fisherman and we made boats which we floated outside and we talked about Jesus helping the disciples get their fish. We rounded out the week on Friday with the story of the Ascension."
Isabella Barilka volunteered at this year's Vacation Bible School because she enjoys learning and spreading God's message of love.
"You teach them and you encourage them to go home and talk about it with their family and make it a chain reaction so that their family goes and talks about it with other people," Barilka said.
The young students took many things away from the weeklong experience.
"We're learning about how Christ is the Light of the World," camper Ivy Kadoubowski said.
"I liked making new friends and learning more about Jesus and God, especially the Ten Commandments," camper Camia Hurst added.
Whether the kids were using chalk to fill the church sidewalks with images of God's creation or getting a special blessing from Monsignor Patrick Pratico, pastor of Visitation of the Blessed Virgin Mary Parish, everyone had a wonderful time.
"We spend hours and hours and hours preparing for it but each day, at the end of the day, we say 'We think it went really well' and we're happy that we did it," Skierski said with a smile.
*******************
EAST STROUDSBURG – There were only good vibes and positive energy at the Church of Saint John June 19-23 as dozens of youngsters participated in the parish's Vacation Bible School.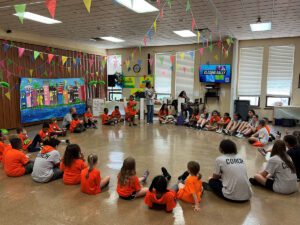 "We are running a mega sports camp. Our theme is Good VIBES Only. Each letter in VIBES stands for something we want them to remember about themselves," Marybel Sigler, Director of Faith Formation, explained. "V for valuable, I for influential, B for brave, E for encouraging and S for selfless."
While the kids had plenty of time for basketball, football and water balloon tosses, they also learned about different stories from the bible. The goal of organizers was to have each camper form a relationship with Jesus.
"If we can get them to have a desire to have a relationship with Him, to get to know Him a little better, to make Him their friend, then we have succeeded. Then the fun and everything else is icing on the cake," Sigler added.
Ayva McKelown, a third grade student, thought Vacation Bible School is so much fun she wants to do it every year. She took away many valuable lessons.
"God made us and He believes in us," she said. "He loves us very much."
Liam Flaherty, an eighth grade student, volunteered for this year's Vacation Bible School to share his love of Jesus.
"It's a lot of fun but at the same time it's for the kids to understand what Jesus did for us and why He died for us."
Not all of the students who participated are parishioners of the Church of Saint John.
"Hopefully we'll get them to come back and be a part of our Faith Formation group," Sigler said.
********************
NANTICOKE – Six months of hard work and planning paid off during the week of June 12-16 as dozens of children gathered daily for Vacation Bible School at Saint Faustina Kowalska Parish.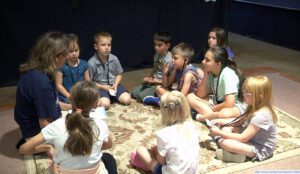 This year's theme was "STELLAR: Shine Jesus' Light."
"These activities all include Jesus' light. We have a Bible station and they learn about Jesus at the Bible station. We also have an imagination station that is really phenomenal," Char Golobek, Faith Formation Director, said.
Each day had a different theme. One of the days, for example, was 'Shine Jesus' Light when you're feeling happy.'
The program relied on a number of volunteers to be successful.
"It allows me to re-energize. It allows me to connect with my daughter who is one of the crew leaders and it gives me a chance to spread God's love to the children," volunteer Maria Mera said.
"I love working with kids," volunteer Elia Lowe added. "They're learning about God and it's a great way for them to learn. It's good to see them interact with people they don't know and make friends over the whole week that they're here."
The Vacation Bible School was open to students in preschool through six grade (ages 4-12) and was held at the Catholic Cultural Center of the parish.
"There are nice teachers, nice people here," camper Michael Urbanski said. "You dance. There is singing. There is everything you need to have fun. You also learn about how Jesus helped people."
"It is really fun. You play games and you have activities," camper Addison Kivler said. "We're learning to shine Jesus' light!"