SCRANTON – For many young people, their birthday is cause for celebration. Due to high inflation and financial challenges, however, not every family is able to afford the 'extras' associated with a big bash.
Catholic school students from five elementary schools in Lackawanna County recently came together to make sure no local child will be without a proper celebration for their big day.
During different retreat days held in Lent, students at each school brought in items to create 188 "birthday bags" filled with boxed cake mix, icing, sprinkles, candles, balloons and a disposable cake pan.
"Each grade brought in something small to contribute and created the completed bags that we then donated to local food pantries," Liz Devine, elementary school guidance counselor, explained. "The students also created personalized birthday cards to go in the bags."
Second through eighth grade students, 811 in all, participated in the Lenten retreats and help to create the birthday bags. The schools involved in the project are Saint Mary of Mount Carmel School in Dunmore, La Salle Academy in Jessup, Our Lady of Peace School in Clarks Green, All Saints Academy in Scranton and St. Clare/St. Paul School in Scranton.
"Our retreat was based on the passage from the Bible of Jesus feeding the 5,000," Devine said. "We read the Bible passage and reflected on it. It was pointed out to the students how the boy in the story only gave a meager little meal to Jesus and Jesus created His miracle and even had extra left over."
The day also included small group team building activities, prayerful introspection and guided imagery reflection.
Devine says many of the students recognize there are people in their own community who do not have enough money for regular meals, never mind a special birthday celebration.
"Catholic schools in the Diocese of Scranton distinguish themselves not only by their academic excellence but by how they incorporate a faith-filled duty to serve others," she added.
Each school selected the local food pantry in which to donate the birthday bags created.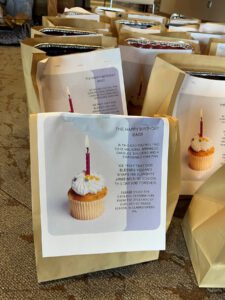 The recipients include Catherine McAuley Center in Scranton, Saint Ann Parish food pantry in Scranton, Saint Patrick Parish food pantry in Scranton, NEPA Youth Center in Scranton, Queen of Angels Parish in Jessup, and the Montdale food pantry.
In reflecting on the project, Devine considers it a big success because it "challenged the students to give of themselves to others, even in the smallest way!"