SCRANTON – For Sean Rodgers, scouting is much more than just spending time outdoors.
"Scouting is the best part of my life. I started way back in first grade and now I'm a junior in high school," he explained. "I've learned so much more than tying knots and building fires. I've learned leadership skills. I've learned public speaking skills. I've learned what it means to have good character, to be a good person."
His friend, Simon Basham, agrees.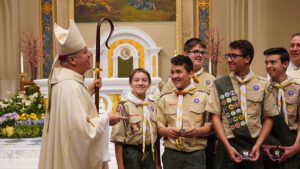 "Scouting is an amazing program," Basham added. "You get team building skills. You just learn so many things that you can use in life."
Rodgers and Basham, both members of Boy Scout Troop 106 in Mountain Top, were among 33 young people from parishes around the Diocese of Scranton recognized during the Diocese of Scranton's annual Scout Mass on April 23, 2023. Due to the COVID-19 pandemic, this is the first time since 2019 the Scout Mass has been celebrated in person.
The Most Reverend Joseph C. Bambera, Bishop of Scranton, served as principal celebrant and homilist for the Scout Mass. Reverend Jonathan Kuhar, Diocesan Scout Chaplain, concelebrated the 10 a.m. liturgy, which coincided with the Third Sunday of Easter.
"My brothers and sisters in scouting, never underestimate the power that you are given as baptized Christians, as you serve and as you build up the communities in which you live," Bishop Bambera said during his homily. "You have the ability to impart the very love and mercy of God to people who are in need. What a treasure that is – thank you for embracing it!"
The goals of Catholic youth ministry align very well with the goals of scouting: character development, citizenship training, personal fitness and leadership development.
Allison Van Pelt, who has served as an altar server and sacristan at Saint Jude Parish, believes the morals and values taught in scouting help to empower young people to live as disciples of Jesus Christ in our world today.
"In scouting, I have the Scout oath and the Scout law and in the church we have all of the teachings from the bible and the scriptures and all of these give me a very good point of view to follow and they really help guide me throughout my life," Van Pelt said.
At the end of the Mass, the Ad Altare Dei Emblem and Pope Pius XII Emblem were presented to the young adults who had fulfilled the requirements for the award. The Ad Altare Dei program centers on the Sacraments and the program for the Pope Pius XII emblem helps scouts explore vocations (single, married, religious, ordained) and ministries in the Church as calls from God. It includes youth-led discussions on current issues facing the Church and society.
"I've worked so hard for these over the past two or three years and just to get them, it is definitely a big accomplishment for me," Michael Grandzol of Saint Jude Parish said.
Since this was the first time in four years that the Scout Mass has been celebrated, four individuals were also presented with the Saint George Emblem, which honors a member of the laity or clergy, scout or non-scout alike, who have made significant and outstanding contributions to the spiritual development of Catholic youths through scouting.
The 2023 emblem went to Leonard Omolecki of Saint Faustina Parish in Nanticoke. Elizabeth Redington from Gate of Heaven Parish in Dallas earned the recognition in 2022, Mark Kuloszewski of Saint Lucy Parish received it for 2021 and C.J. Hughes of Saint Gregory Parish in Clarks Green received the honor in 2020.
After all of the awards had been presented, Bishop Bambera once again thanked all of the young men and woman honored who have committed themselves to service and living as faithful disciples.
"We are very proud to have you with us and most especially to have you all engaged in the good work that you do on behalf of our church and on behalf of our society and our world. We need more young men and women life yourself. We are so blessed to have all of you," Bishop Bambera said.