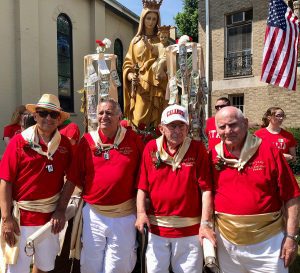 CARBONDALE – This year marked a special milestone for the celebration of the Feast of Our Lady of Mount Carmel in Lackawanna County's Up-Valley.
The faithful of Our Lady of Mount Carmel Parish in Carbondale marked their 50th Anniversary Celebration of the Feast this year.
"It's the 50th anniversary at our Farview Street location. Our original feast was on Green Street and we moved it once the church was moved to the Farview Street location, so we're celebrating the 50th anniversary at the Farview Street location and honoring the men that have really kept this tradition alive," parishioner Josefa Dombrosky said.
The four-day celebration in honor of Our Lady of Mount Carmel in Carbondale comes with a deep sense of pride.
"The Feast celebration is the heart and soul of this parish. It is a time where we showcase our delicious Italian recipes that have been passed on through generations. The Feast is a place where we come together to celebrate the heritage of the founding members of this beautiful, ethnic parish," Dombrosky added. "The sense of pride that we carry for this church is deep in our hearts and showing it off makes us glow from inside-out."
The celebration ended with a Mass celebrated by the Most Reverend Joseph C. Bambera, Bishop of Scranton, on Sunday, July 17, 2022.
"It's a real privilege for me to be a part of this wonderful celebration," Bishop Bambera said at the beginning of the special liturgy.
Following the Mass, a procession of the statue of Our Lady of Mount Carmel took place throughout the streets of Carbondale's west side.
For several hours, the statue visited nursing homes and residences to bring the faith out into the community.
"It is very important to our church. It's an Italian heritage church that we are so proud of," parishioner Lori Lee explained. "It's a pilgrimage that we make to honor Our Lady of Mount Carmel."
After several difficult years dealing with the COVID-19 pandemic, participants say the procession was not only a perfect way to live out their faith but build community and invite people in the community to return to church.
"We want people to get back into church," Lee added.