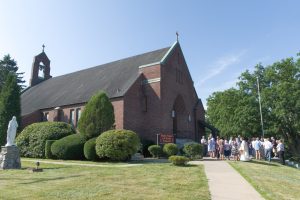 SCRANTON – On July 17, 2022, dozens of people gathered one final time for the celebration of Mass at Holy Name of Jesus Church on Scranton's East Mountain.
Following the 8 a.m. liturgy, long-time parishioners Robert and Susan Barry locked the doors of the church. As parishioners looked on, gathering outside the building, they thanked God for the many wonderful, faith-filled experiences they had together.
Holy Name of Jesus has served as a secondary worship site for Saint John Neumann Parish since 2010. For the last 15 years, it has been without a resident pastor.
In recent years, demographic changes resulted in a sustained decrease in Mass attendance. Following conversation and consultation with the Saint John Neumann parish community, which examined maintenance needs for the building and the overall financial condition of the parish itself, the difficult decision was made to close the church.
A special program made for the final Mass highlighted the history of Holy Name of Jesus Church. The church community began when residents of East Mountain approached the Diocese of Scranton with a request for a church in their neighborhood in 1938. The church, which cost $35,853, was dedicated in Nov. 1939.
During his homily at the closing Mass, Monsignor Joseph G. Quinn displayed a sign which he found in the church which gave him inspiration. The sign was a quote from Pope Francis which said, "We must not let hope abandon us … Optimism disappoints but hope does not."
Monsignor Quinn continued to express hope for the future standing outside the church following the recessional hymn.
"We go forward together in faith. I pray that we all understand that," Monsignor Quinn explained. "Things change. When your family home was sold and closed, was that the end of your family? No. You found new ways to go forward. We're called to do the same here."