OLD FORGE – Just one week after La Festa Italiana brought thousands of people to downtown Scranton to celebrate their Italian heritage, the Felittese Festival did the same thing for Old Forge.
Despite rainy weather on Saturday night, many people still attended the annual three-day celebration in honor of Our Lady of Constantinople.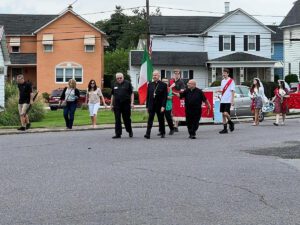 "It has been a tradition in Old Forge for years. It is a way for families, the parish and the community to come together to express their faith," Father Gus Riccardi, pastor, Prince of Peace Parish, said.
The Most Rev. Joseph C. Bambera, Bishop of Scranton, celebrated the 10 a.m. Feast Day Mass at Saint Mary's Church, on Sunday, Sept. 10, 2023.
During his homily, he touched on the importance of relationships as a way to experience God and live out our faith.
"If you want to encounter God, look at the lives that God has placed in your own," Bishop Bambera said. "In your relationships and in your ability to live in peace with one another and to serve one another, you will encounter God."
Following Mass, the bishop participated in a procession of the statute of Our Lady of Constantinople that began at Saint Mary's Church and ended at the Felittese chapel grounds on Third Street.
"The history of this Italian festival started when our ancestors came over from Filetto, Italy, in the early 1900s/late 1800s, and they formed a community here in Old Forge," Jeff Casella, Felittese Association Chairman, explained. "They brought their faith and traditions with them."
Joanna Reviello has been participating in the Felittese Festival for decades and has worked to ensure that children participate in the Mass and procession.
"Twenty-five years ago, I began having our children lay the flower before the Blessed Mother and ask for continued family blessings. I wanted to teach them that tradition," she explained. "When our ancestors left Filetto and came across the ocean and settled here in Old Forge, they wanted to bring their tradition and their faith with them. They attributed all of their family blessings to Our Blessed Mother!"