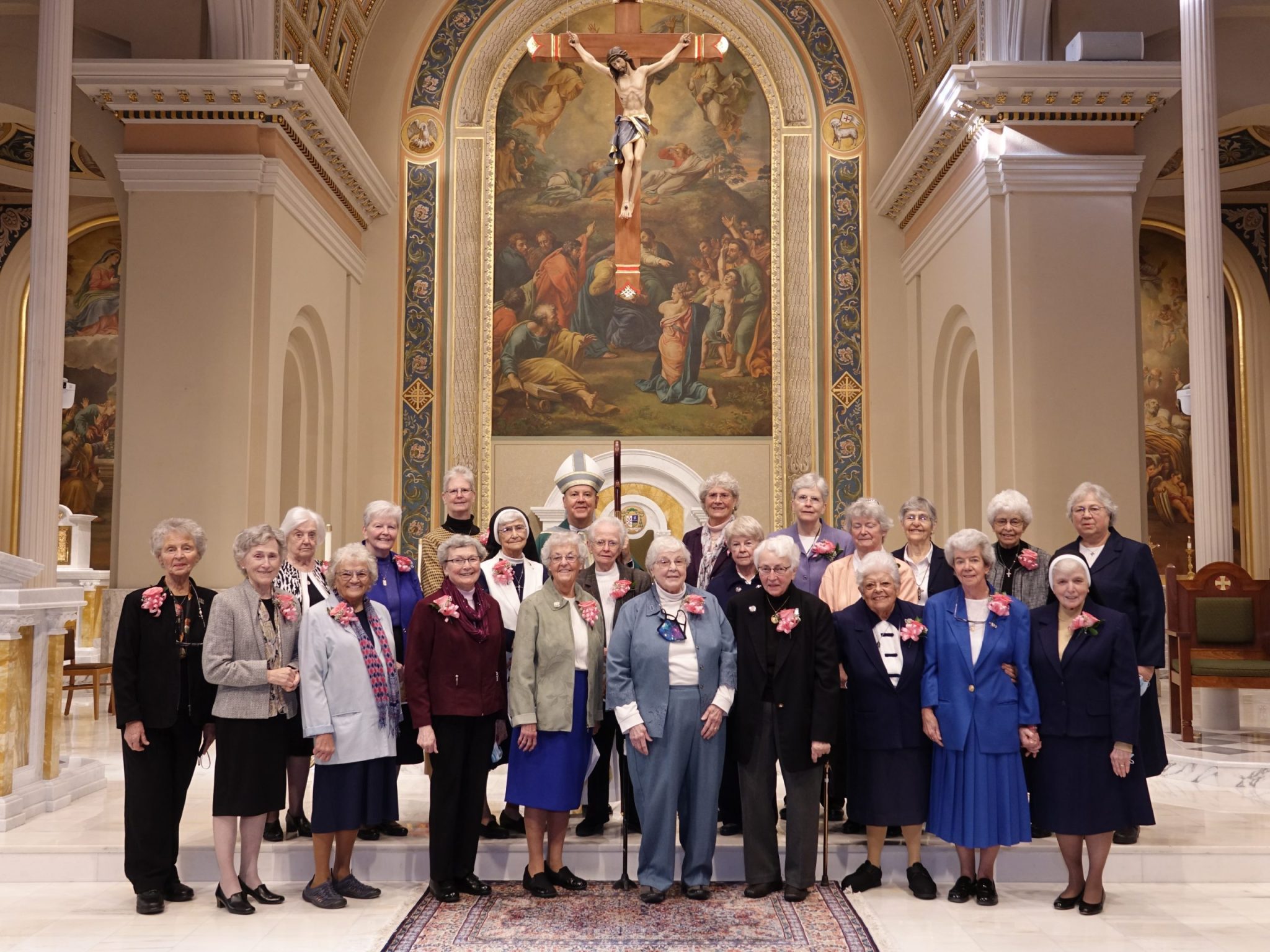 SCRANTON – While waiting for the Jubilee Mass for Men and Women Religious to begin on Nov. 7, 2021, Sisters Rosella Salvato, IHM, and Myra Gilbert, IHM, sat in the first pew of the Cathedral of Saint Peter reflecting on their 60 years in ministry.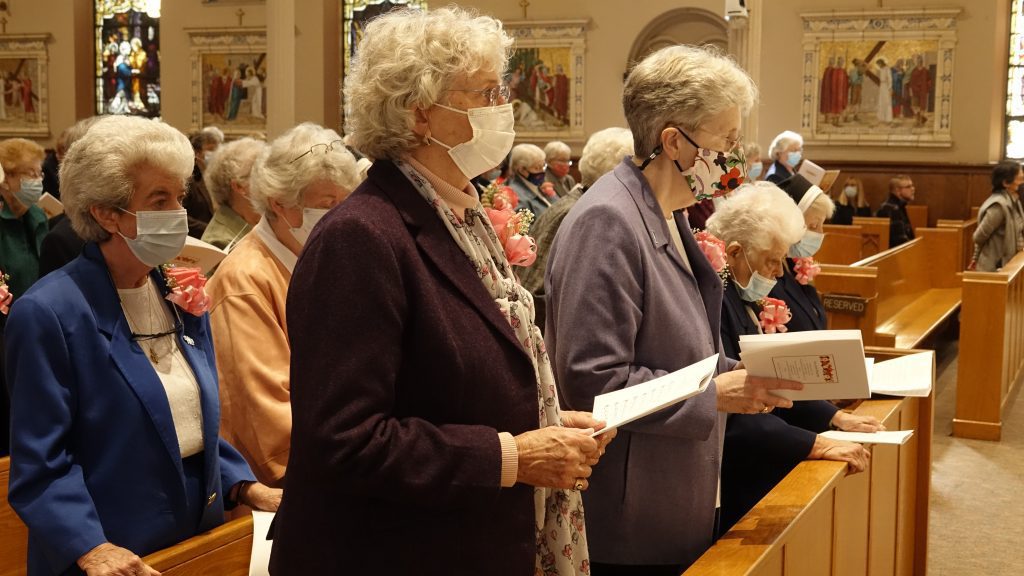 "It is a glorious occasion for us to be able to celebrate our God-given vocation," Sister Salvato said.
"It's hard to express what the day means because I have all these feelings of joy and gratitude. I'm thinking of the many blessings I've had over the years," Sister Gilbert added.
Both Sisters are celebrating 60 years of religious life with Sisters, Servants of the Immaculate Heart of Mary.
"I taught for 56 years. A tremendous part of being a Religious was to be involved in the Legion of Mary," Sister Salvato said. "I also had the privilege of going to Waymart prison to minister with the inmates. My vocation has been glorious and I thank God for this day and my parents who nurtured me in my faith."
Sister Gilbert was also involved in teaching and also served as a minister to the sick and homebound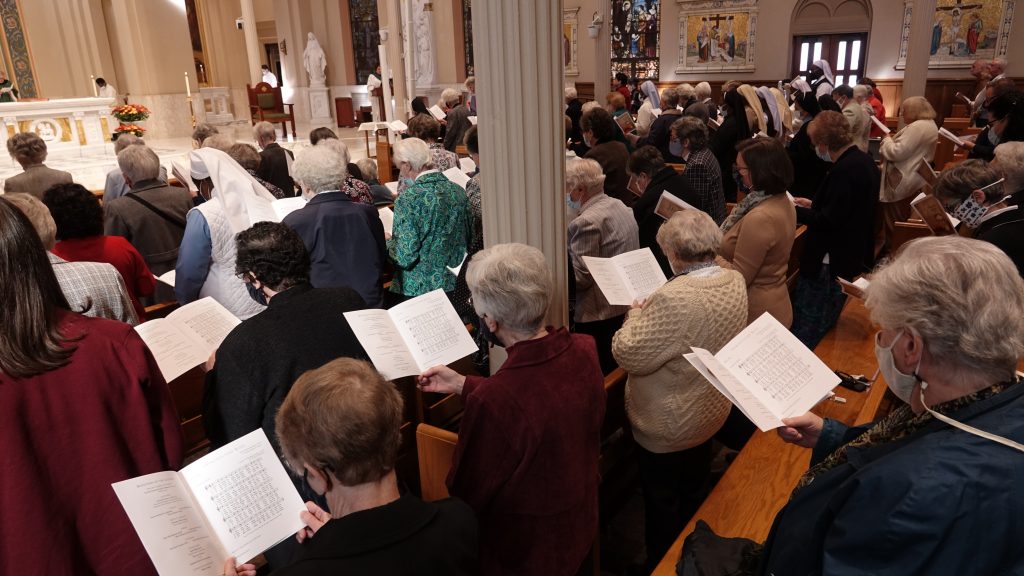 "That was a beautiful ministry, to take Jesus to the people who could not get to Mass. They appreciated it so much," she explained. "The Lord has given me a long life and he has given me many opportunities to share his goodness and blessings. I'm very joyous and very grateful for all the blessings that he has bestowed on me."
After being postponed in 2020 because of the COVID-19 pandemic, the Diocese of Scranton celebrated its Jubilee Mass for Consecrated Life on Nov. 7, 2021. Women and Men Religious celebrating jubilee anniversaries of 25, 50, 60, 70, 75 and even 80 years were recognized during the Mass.
The Most Reverend Joseph C. Bambera, Bishop of Scranton, served as principal celebrant and homilist. Following the homily, the Men and Women Religious in attendance renewed their vows and sang the "Salve Regina."
The bishop noted that, collectively, all of the jubilarians represent 3,895 years of service to the Church in Consecrated Life.
"Your openness to listening to the needs of God's people, to dialoguing with them and discerning how we can walk together as sisters and brothers is a sign of your deep appreciation of how the Church best responds to the needs of a suffering world since its earliest days," Bishop Bambera said during his homily.
"Your willingness to engage and serve the people of God – especially in your commitment to work for justice for the marginalized, immigrants, the poor and all those oppressed by far too many who deem themselves righteous – is a unique and powerful witness to the presence of God at work in our world."
Bishop Bambera also noted how those in Consecrated Life do their work in quiet, simple ways.
"So much of what you do looks so ordinary and so natural," the bishop noted. "Thank you for reminding us of the treasure that is ours when we live not so much for ourselves, but for Christ, in service of our sisters and brothers."
Sister Dorothy Marie Hagan, R.S.M., is celebrating 60 years since she professed her vows.
"It's a big privilege to be here with so many wonderful, dedicated women, who have spent their lives doing good for others," Sister Hagan said.
As a Sister with the Sisters of Mercy of the Americas, Sister Hagan said she has never regretted her decision.
"I've been very involved in so many different ministries, teaching I loved and then formation ministry with the younger sisters. I've been all over the United States and South America, so I've never had a dull moment," she explained.