WILLIAMSPORT – Calling it a "beautiful opportunity" to be in the presence of our Lord, Livia Schwartzman was one of many people who participated in a 40 Hours Eucharistic Celebration in the Williamsport Deanery at the end of October.
"It is a perfect opportunity to be centered on Christ and to be fully united to him," she said.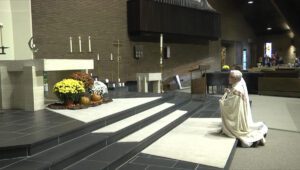 Schwartzman, a parishioner at Saint Joseph the Worker Parish in Williamsport, was happy to see parishioners from many parishes participate over the course of a three-day period from Oct. 24-26.
"There is a lot of evil and division all over the place and Christ is unifying and we just need to keep coming to Him to see the fruit that He produces," Schwartzman added.
During the 40 Hours Eucharistic Celebration, people were invited to attend Mass, Daily Adoration and Evening Prayers at three different churches in Lycoming County.
"Forty Hours devotions are three days, three Eucharistic Days, when the Blessed Sacrament after Mass is placed in the monstrance on the altar and people are invited to come in and pray," Father Glenn McCreary, V.E., pastor, Saint Boniface and Saint Lawrence Parishes, said.
The celebration began on Oct. 24 at Saint Joseph the Worker Parish. It continued the following day at Our Lady of Lourdes Parish in Montoursville and concluded on Oct. 26 at Saint Boniface Parish in Williamsport.
It was held in conjunction with the Second Year of the National Eucharistic Revival, which is specifically focusing on Eucharistic devotions in parishes to help all Catholics grasp more deeply the Mystery of the Eucharist.
Father McCreary said he was very happy with the number of people who turned out each day.
"What is very powerful about this is recognizing that we might be praying in silence before the Blessed Sacrament but there are other people coming in the church.
There is a real sense of belonging to that 'Body of Christ,' which is the Church."
Carol Sides, a parishioner of Saint Boniface, was also thrilled that many of her neighbors participated.
"I see some (people) that haven't been here for a bit and they are coming back," Sides said.
The long-time parishioner appreciated the 40 Hours Eucharistic Celebration because it gave her an opportunity to think about the gifts God has given to her.
"I think it's very important that you have private time (with Christ). It's something that you don't necessarily put on your schedule for most people, but when you know it's the day you're going to be doing this, it's very special," Sides explained.