HARRISBURG – More than 5,000 pro-life advocates converged on the State Capitol on Oct. 16, 2023, to march and rally in support of the unborn.
Many in attendance also decried a decision by Gov. Josh Shapiro to discontinue a contract with Real Alternatives, an organization that provides counseling, referrals, and other services through partnerships with crisis pregnancy centers, by Dec. 31, 2023.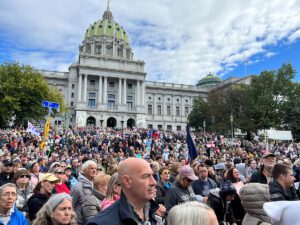 "When did it become okay to celebrate cutting off a lifeline to people in their most vulnerable state, making a decision that could benefit not one, but two lives? It is completely disgusting," Sen. Kristin Phillips-Hill, R-York, said.
At a pre-march rally, many speakers emphasized how Real Alternatives funding supports Catholic social service organizations and facilities that house pregnant women.
"Our opposition used to say, 'Safe, Legal and Rare.' Now, they say, 'Abortion: Whenever, Wherever and However,'" State Representative Josh Kail, R-Beaver/Washington, said. "It is not us that will end up winning this fight, it is all of you out there, your energy, your willingness to be here, your willingness to organize, to talk to your neighbors and to get out there and vote."
Abortion is legal in Pennsylvania up to 24 weeks. With Democrats holding a majority in the state House, there seems little chance anti-abortion legislation would be considered through the end of the 2023-24 session.
After federal protections afforded by Roe v. Wade were overturned last year by the U.S. Supreme Court, states are now in control of abortion access.
"Women really do deserve better than abortion. They deserve love. They deserve support. We need to empower women and families to choose life," Dawn Fitzpatrick, Executive Director of March for Life, said.
The Most Rev. Joseph C. Bambera, Bishop of Scranton, was one of several bishops who attended and participated in the third annual PA March for Life. He was joined by other Bishops from Allentown, Harrisburg, Greensburg and Philadelphia.
Several busloads of parishioners from across the Diocese of Scranton also attended the march.
"I think it's amazing how many people showed up to support life from the beginning of conception to the last heartbeat," Kiera Leyden, a parishioner of Saint Matthew Parish in East Stroudsburg, said.
This was the first time Leyden attended the PA March for Life.
"I thoroughly dislike the fact that the state wants to close the centers that are helping those that need the help," she added. "It is wrong. My sister had so much help from pregnancy resource centers. They really helped her because the options she had were abortion, which she didn't even consider, and adoption, which she didn't consider that an option, because she wanted to raise her daughter."
The funding for Real Alternatives was also an issue on the minds of Norbert and Nona Josten, who have travelled from their home in Tioga County for the last three years to attend the PA March for Life.
"Our current administration is hostile to life and hostile to families and we have to be more present in our activities so that we can get the message across," Norbert said. "We need to bring home the vote."
Bishop Bambera has spoken about the local impact of the cuts to Real Alternatives funding in several recent homilies, in his Respect Life message in the October edition of The Catholic Light, and at the recent Pennsylvanians for Human Life Breakfast in Scranton. If the Real Alternatives funding contract is not renewed, Catholic Social Services could lose approximately 80-percent of the funding it takes to operate Shepherd's Maternity House in East Stroudsburg.
"It's huge and it impacts us in real tangible way in a lot of the wonderful programs of which we're so proud in our own diocese," Bishop Bambera said.
Following the march itself, Maryann Lawhon, Executive Director of 'The Voice of John,' was one of many people who met privately with state lawmakers to advocate for Real Alternatives funding to remain in place.
"We know that we have to stay steadfast," she said about public advocacy efforts.
Reflecting on the impressive crowd of thousands at the PA March for Life – the largest yet – the long-time, pro-life advocate was inspired by all of the young faces in the crowd.
"What is so impressive to me was to see all the high schools that were represented throughout Pennsylvania, all across the state, and it's such a wonderful feeling for me, who has been doing this (work) for 50 years to see that there is a new generation of kids who are passionate and so eager to spread truth and realize the damages of abortion," Lawhon said.