WILKES-BARRE – One year after Saint Dominic Church held its final Mass, the building is still serving the needs of the community, albeit in a different way.
"We were glad that we were able to turn this beautiful structure into something that still is 'church,' it is still outreach, it is still ministry," Laura Rudloff, organizer of Treasures, a clothing closet ministry operated by volunteers of Saints Peter & Paul Parish in Plains, said.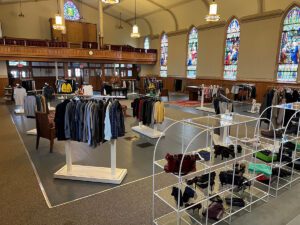 Last fall, the former church building became the new location of Treasures, which supports hundreds of people in the community by providing clothes each year.
"We're excited to be here," Rudloff stated. "Individuals in any type of need can come. The community that we serve is vast. It is not just this immediate area. We help individuals from social services, Children & Youth, fire victims and police officers contact us when they find out people are in need of something. We have long arms."
All of the clothing items in Treasures clothing closet are free. The pieces are donated by members of the community and are passed on to those in need.
"It is all about helping the community by giving them things that they need – clothes, shoes, coats – to people that are having difficulty," volunteer Kathy Pilconis said.
Pilconis says the new space has been such a blessing for volunteers and the people being served.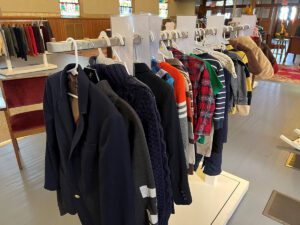 "It is so much more open. We have areas where things can be divided the way they should be – men, women, adults, children. Shoppers are finding it a lot easier to shop. They can look around. We have more space. We have space where we can put shoes out that we didn't have before," she added.
"We're able to show the clothing in more of a boutique setting. People like it. They like to come and shop. They like the surroundings. It is a really beautiful space," Rudloff said.
After operating at Saints Peter & Paul Church in Plains for its first two years in existence, in 2020, the clothing closet moved to the former rectory of Saint Dominic Church on Austin Avenue in Wilkes-Barre because it needed more space. The ministry program has proven to be so necessary and vital to the community it quickly ran out of room again to sort, organize and display all of the clothing items donated.
By now being able to utilize the former church building itself, there is much more space available.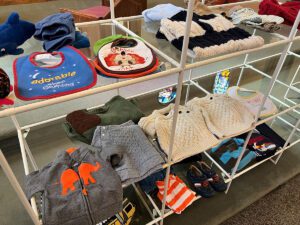 "It makes me teary," Pilconis admitted. "It just feels good in this space for some reason. This is just an extension of what we're supposed to do."
"We enjoy being in this space. It has brought a whole new life to the volunteers as well. It was a boost to all of us. Everyone loves our job and we're excited to come to volunteer every week," Rudloff said.
Treasures is currently open on Monday evenings from 5-7 p.m. and Friday mornings from 10 a.m. until noon. On average, at least 20 people visit the clothing closet each day that it is open.
"We're looking to be open on Wednesdays as well. That is how much need there is. That is in the works for the future," Rudloff said. "The word has gotten out and we work with a lot of other churches."